A traditional Tuscan menu for Christmas and a roast pork loin with pears
Christmas at home is a postcard. Each one has a role, as in a theatrical operetta: everyone has his lines or his stage costumes. There have been the same smells for decades, the chicken liver crostini and the spices of panforte hovering from mid-December to the Epiphany on the 6th of January, the same discussions that are now a fond habit.
I'm waiting for the whole year for that moment when we gather in my parents' living room, immediately after breakfast – someone with a cup of coffee or a hot mug of tea still in his hands – and just before going to the Mass in our country church. Often still in our pyjamas, we open our gifts in turn. What I love is the calm surprise and the feeling of protection and safety, the sense of being home with the people I love: grandma is usually ready for the Mass, with a pink dressing gown wrapped over her good clothes so as not to get cold. Mum, who at seven in the morning has already planned lunch and dinner and the displacements of troops and provisions. Dad with his camera on a tripod to film that moment, every year, the surprised eyes, the rustle of paper and the sleepy smiles. We have a historical archive of films that dates back to the '80s: sooner or later we'll have to watch them.
When we finally sit down at the table – at us, or at the in-laws, in the countryside or in the city, in Siena or in Florence, it does not matter who we are, it does no matter if we eat cappelletti, lasagne or ravioli, salmon or wild boar, panforte or cartellate – then we are family.
A traditional Tuscan menu for Christmas
And so here we are at the third menu, after the vegetarian menu for a lunch with friends and the Italian seafood feast for Christmas Eve, we are at the big day, Christmas. A traditional Tuscan menu for Christmas, made of crostini with chicken liver spread, grandma's lasagne, stewed wild boar or roasted pork loin, stewed artichokes and a cardoon flan. And then the Sienese sweets, which close every festive lunch along with the Christmas cake.
Have you already decided what you will cook for Christmas? We will fish among all the menus, we will mix the cards and the origins, and certainly, as every year, we will create new traditions and new memories that will build our family.
We'll be back soon for Christmas greetings, but in the meantime here are some ideas for a traditional Tuscan menu for Christmas.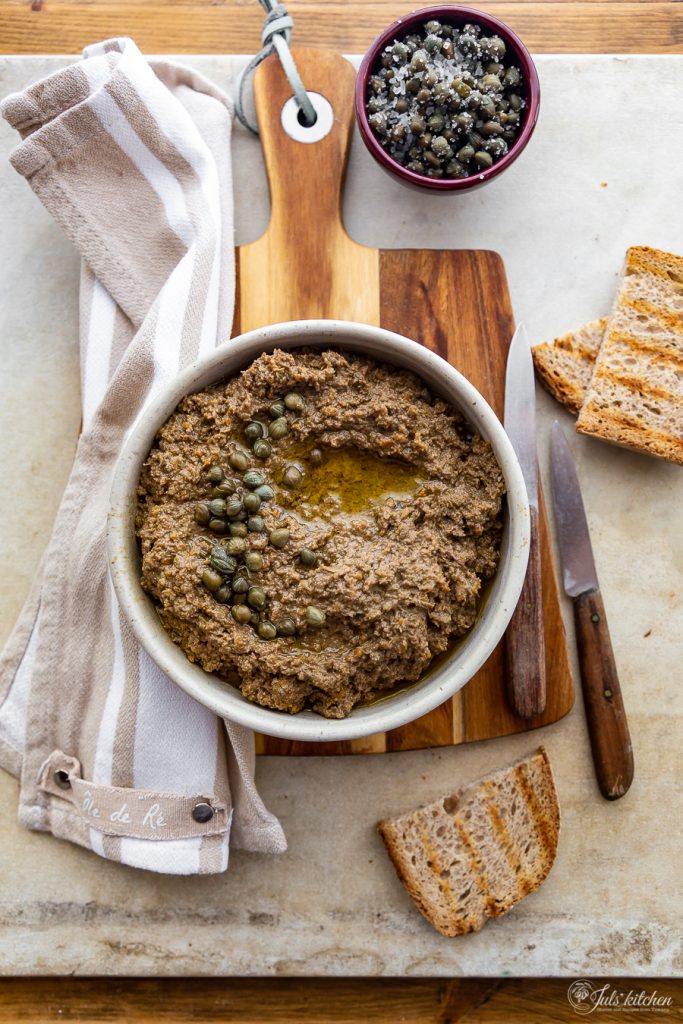 Starters
Crostini neri
Crostini neri, made with a creamy chicken liver paté, are the appetizers that should be made for special occasions and holidays. When grandma was a child, these crostini were made during threshing days, when the farmyard was crowded with people. Men were working in the fields, while women were cooking for them. These were the days to be celebrated, along with Christmas day and Easter. Since I was born, these crostini have always been made to celebrate christenings, weddings, birthdays and Christmas days.
This is the simple way my grandma and my mum make the crostini neri, literally the black crostini, a name given after the brownish colour of the chicken liver spread.
There's also a recipe with spleen and one with walnuts.
Crostoni con i ceci e la soppressata
It is a crostone, a topped slice of bread, nothing more simple. If you have leftover chickpeas you just toss them in the pan with a drop of good extra virgin olive oil and a thick slice of soppressata, diced. Extraordinary in its simplicity. It is apparently a typical starter in the Chianti area, but it is so localized that it doesn't get through those hills covered by vineyards.
The recipe was simple: just a slice of toasted bread, chickpeas and soppressata. I threw in also some thinly sliced orange zest, as orange is one of the aromas you can find in a soppressata. With the heat from the skillet the orange releases its essence and makes it an even brighter dish. Get the recipe here.
Primi – Fresh pasta
My grandma's lasagne
All the family love my grandma's lasagne it to bits, it is a sacred unmissable appointment for holiday meals and birthday celebrations. It is quite unique, as it is not the Bolognese recipe, but her own version, made with béchamel sauce, her Tuscan ragout, mozzarella and paper thin sheets of fresh pasta.
Potato and pecorino tortelli with meat sauce
The tortelli in Mugello have a more rustic filling than the ones from Maremma, betraying their mountain origin, with a robust taste. The potato filling is flavoured with a bunch of chopped fresh parsley and a clove of garlic (or more, if you like it), making them a perfect pairing to a rich meat sauce, our ragù, a tomato sauce with a distinct hint of garlic or even a thick nutty pesto. To give an even more festive and celebrative touch, a sprinkle of magic. Cut them like chubby stars or bellied suns, replace parsley and garlic with some aromatic freshly ground black pepper and a generous handful of semi aged Tuscan pecorino cheese, one of our most typical products. Here you can find the recipe.
Thew Tuscan ragù
This is the modern meat sauce, made according my grandmother's likes.My great-grandmother Pia used to make it adding the chicken livers, or, more often, the rabbit livers. Apart from this particular – and the fact that this time I added dried mushrooms, following again grandma's advice – this is the meat sauce that has been made in my family for over 80 years.
Main courses
Stewed wild boar with olives – Cinghiale con le olive in umido
When you are a novice in the kitchen and you want to prepare a meat course, a traditional slow cooked stew is always the most forgiving option. Here you can find the recipe for the stewed wild boar with olives. Braise the wild boar with its battuto, the chopped vegetables, and its marinade liquid on low flame and slowly, as if you had the whole day. You do not need to be there constantly watching it, just check it from time to time to add more liquid when needed.
Serve the stewed wild boar as a main course, accompanied by a simple side dish as a potato salad or enough crusty bread to mop up the sauce, or use it to dress a generous bowl of tagliatelle or tortelli.
Capon braised in tomato sauce
Capon braised in tomato sauce is the strong point of a Christmas in the Tuscan countryside. Each family bred and fed their own capons.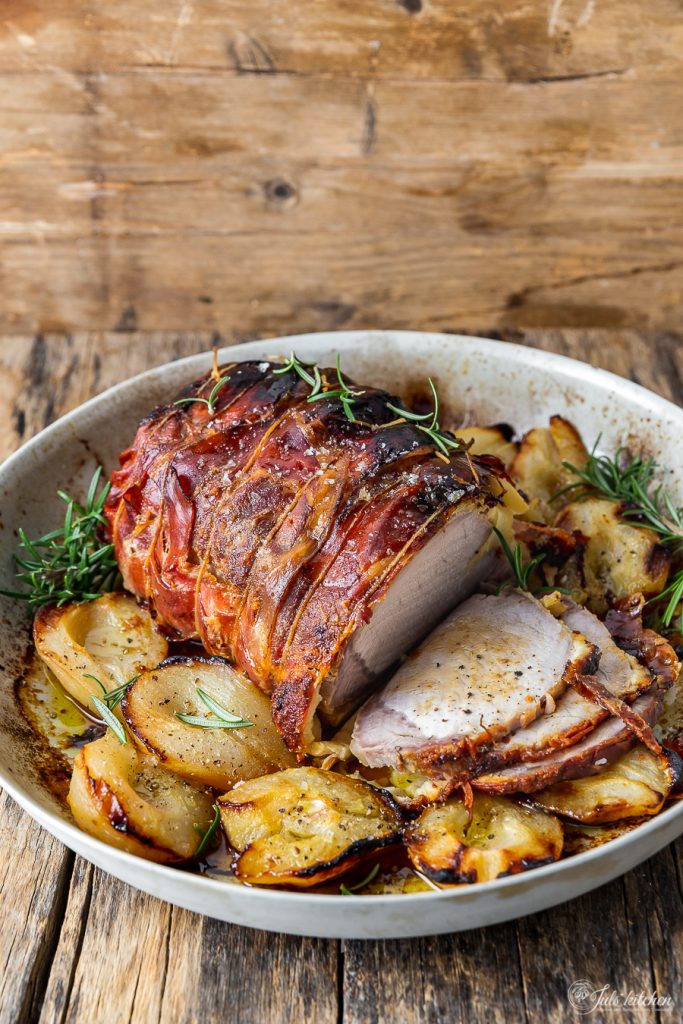 Roast pork loin with pears and pecorino cheese
The roast pork loin is my signature dish. There are several recipes for arista here on the blog: the classic arista alla fiorentina, the Tuscan roast loin of pork on the bone cooked with olive oil and white wine, one with apples and onions, one with prune and pancetta and one with fresh herbs. As this is Christmas, we have another gift for you, a recipe that you can find in From the markets of Tuscany. A cookbook, a roast pork loin with pears and pecorino cheese.
There's an old Italian adage: Al contadino non far sapere, quanto è buono il cacio con le pere, which means something like "Don't let the peasants find out how good cheese and pears are". It's always left me perplexed. How unlucky that the old peasant farmer couldn't have a chance to taste just- ripened pears with a slice of slightly aged pecorino (the type that still tastes of milk). In Tuscany, you see, "cheese" and "pecorino" are synonymous.
For best results, choose adequately ripened pears and a not overly aged pecorino. You need enough sliced pears and cheese to cover the pork loin and "seal" it along with the prosciutto.
Roast pork loin with pears and pecorino cheese
For best results, choose adequately ripened pears and a not overly aged pecorino. You need enough sliced pears and cheese to cover the pork loin and "seal" it along with the prosciutto.
Print Recipe
Pin Recipe
Share by Email
Ingredients
800

g

(1 and 3⁄4 lb) boned pork loin salt

freshly ground black pepper

200

g

(7 oz) Tuscan prosciutto

1

ripe pear

80

g

(2 and 3⁄4 oz) medium-aged Tuscan pecorino cheese

Extra virgin olive oil

200

ml

(1 and 3⁄4 cups) white wine
Stay Hungry with our Newsletter!
Subscribe to Letters from Tuscany and receive blog updates, new stories and exclusive recipes.
Instructions
Rub the pork loin with salt and fresh ground pepper.

Lay sliced prosciutto on a cutting board, then arrange thin slices of peeled pear on the prosciutto, followed by thinly cut slices of pecorino.

Next place the pork loin on top. Arrange a few slices of pear and pecorino on the top of the pork loin, then wrap the prosciutto around the pork loin. Use the remaining prosciutto if needed to form a lining around the meat.

Carefully tie the pork loin with kitchen twine, making sure it is well secured and snug so it cooks evenly.

Add some oil to a cast iron pot and heat on medium. When the oil is hot, place the pork loin in the pot and cook on each side until the prosciutto is well browned.

Carefully turn the pork loin using two wooden spoons as to not puncture the meat and to avoid letting any juices escape, needed to keep the meat tender and flavorful.

When the meat is browned on every side, including any exposed parts that did not get covered with the prosciutto, add the white wine and reduce. Cover the pot with a lid. Let cook on medium- low heat for about 25 minutes.

Once cooked, let the pork loin rest for at least a half hour inside the pot, or wrapped in a sheet of aluminum foil, before slicing it. This way the meat's juices will set, leaving it tender and savory.
Order now the Cucina Povera Cookbook
100 recipes to celebrate the italian way of transforming humble ingredients into unforgettable meals. ORDER NOW!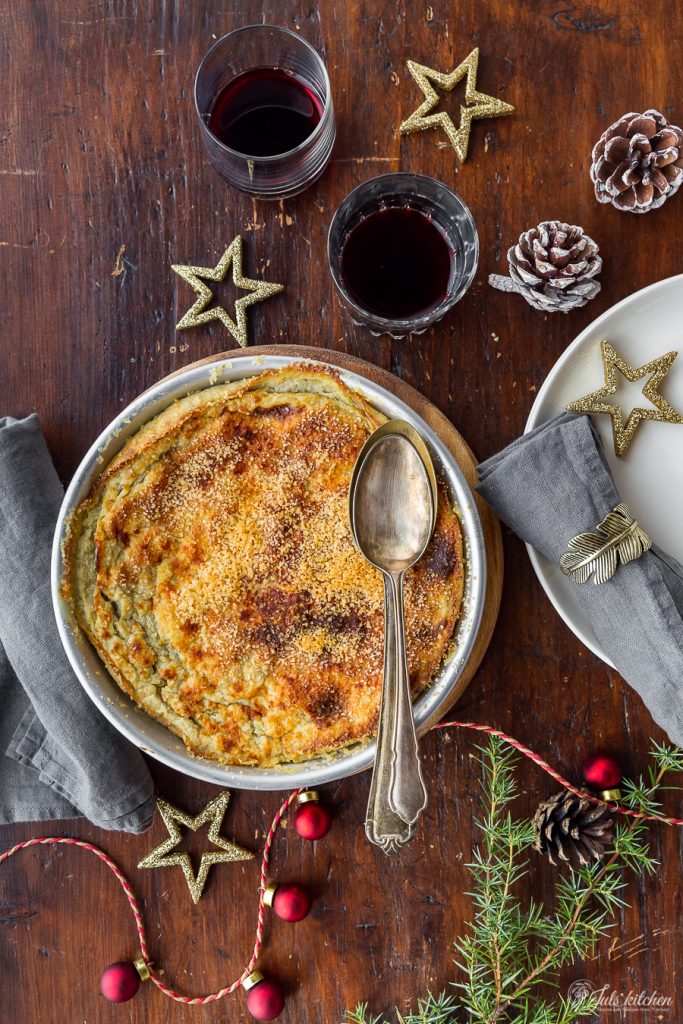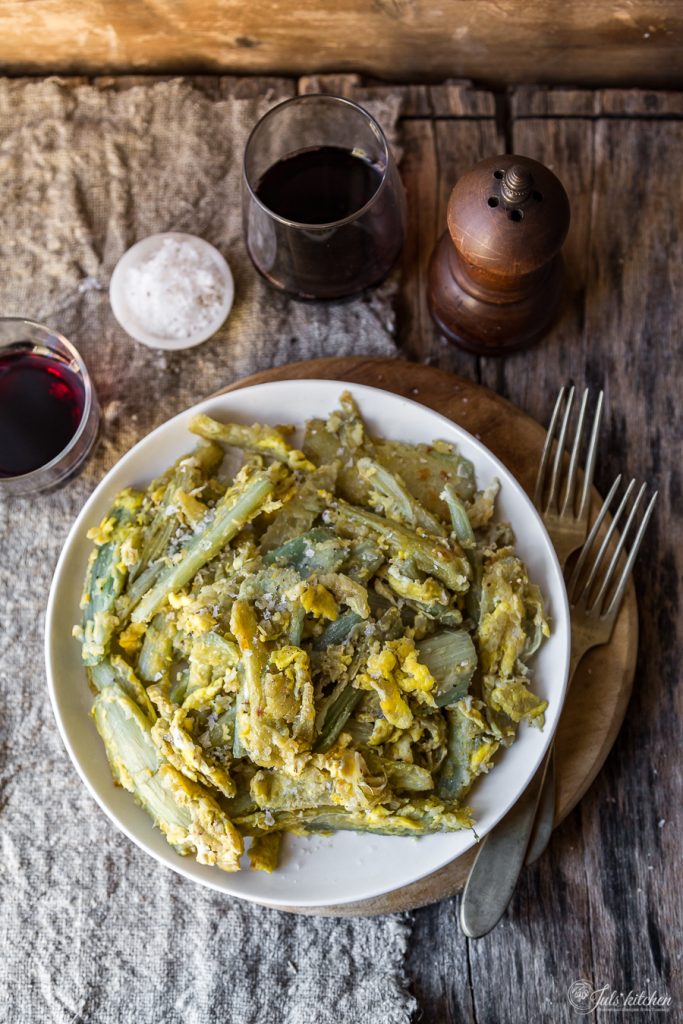 Side dishes
Cardoon flan
I asked my grandmother which is in her opinion a typical Christmas dish in our family, something she would see on our table along with lasagne, capon and cavallucci. She enthusiastically answered: cardoon flan, how good is it? Let's make it! As you might have realized last year, we have a fond preference for flans at Christmas, a festive side dish that plays its role next to more important main dishes and most of all can be made in advance, leaving the modern housewife free to entertain her guests while the flan is baking in the oven. In the now actual perspective of saving and recycling, the flan can be easily re heated in the evening along with other leftovers, the perfect meal to be eaten on the couch watching a Christmas movie.
Cardoons cooked with eggs
In my family there typical recipe to cook cardoons is that of the three time cooked cardoons (first you boil them, then you fry them, eventually you braise them in the capon tomato sauce), but we found many interesting recipes in the Artusi's cookbook, too. They all have in common one point: Pellegrino Artusi explains that cardoons are light, easy to digest, refreshing but… tasteless (it's not true! they have a delicious artichoke flavour!) so you must use a lot of sauce and seasoning. In this recipe cardoons are first boiled than fried until golden in a little soffritto of olive oil and garlic and, eventually, cooked with beaten eggs.
Stewed artichokes
Carciofi ritti, stewed artichokes, are a typical Florentine recipe. Artichokes should be prepared with a good dose of patience, as you are supposed to clean them, removing all the tough outer leaves, and open them by hand, like a rose. Then you stuff the artichokes with a battuto made of garlic, parsley, salt, black pepper and carnesecca, as you read in the old books of Tuscan cuisine. Use two slices of pancetta and chop everything by hand, on a cutting board.
Traditional Christmas sweets from Siena
The recipe for ricciarelli
The origin of ricciarelli di Siena dates back to the fifteenth century: the almond paste – in the form of marzipan or Marzapanetti – was once very popular in the town and Siena was famous even outside its territory for its production. The cookies made with almond paste were reserved for the sumptuous banquet of the Lords because they were made of precious ingredients, mainly almonds and sugar. They were so valuable and refined that marzipan sweets were sold in the apothecaries shops along with drugs and the most exotic spices of the time. These are so delicate that will melt in your mouth, light as pillows.
The recipe for cavallucci
The cavallucci are round, a bit flat on the edge and dusted with flour. When I was young, mum used to bring home a white paper bag from San Gimignano, full of cavallucci. Each time I eat these cookies, they remind me of Grandad. They are very similar: rustic and bashful on the outside, but sweet and flavourful inside, full of delicious ingredients and spices. They have the taste of the Tuscan countryside, of wood fired oven, of modest gifts made with all your heart.
La ricetta del panforte
Panforte is a thick and dense cake of medieval origin. At first it was made by the monks in the monasteries and given as a symbolic gift in special occasions, then passed into the hands of the apothecaries: sugar, almonds, candied fruit and spices were ingredients as precious as gold, and like gold they were kept from these figures that were a cross between an alchemist and a pharmacist, in huge glass jars on dark wooden shelves. This is dense, spiced, rich in almonds and candied fruit. Do not skimp on the quality of the candied fruit, as it will uplift your panforte to another level.