An Italian Christmas Eve Seafood Feast and the gnocchi alla trabaccolara
I was born in the countryside of Colle Val d'Elsa, in between Siena and Florence. The sea is only an hour away as the crow flies: on a windy summer day I can almost smell the brackish air carried by the breeze. Yet fish rarely appears in our traditional cuisine. Until a few decades ago, from what my grandmother tells me, the only fish that you could buy on a Friday at the market was salt cod, sometimes hake, or cuttlefish. The ingenuity with which vegetables, cheap cuts of meat and offal were cooked was not applied to fish.
I've learnt everything that I know about fish by trying and making mistakes, by reading cookbooks and, above all, by going to the market and asking for help from fishmongers: what is that? what can I do with it? how do I cook it? how much should I keep it in the oven? how do I clean it?
Our trips along the Tuscan coast, from Viareggio to Livorno and down to Maremma and the Argentario, to research, write and photograph From the Markets of Tuscany. A cookbook, have taught us so much. Thanks to the generosity of fishermen and fishmongers we have not only discovered new recipes, but, most importantly, we have realised the importance of being simple and straightforward to enhance the freshness of the fish.
So today we have a gift for you: an excerpt from the Versilia chapter and a recipe that could rightfully enter a Christmas fish menu, the gnocchi alla trabaccolara.
Then, if you are looking for a gift for a cooking enthusiast who also loves to shop at the market, From the Markets of Tuscany. A cookbook, could be the perfect idea! And if you already have the book and loved it, please consider leaving a comment on Amazon, it would be extremely helpful to spread the news about our book.
Viareggio, the fish market on the pier
The fishing vessels dock around 10am in Viareggio, delivering the previous night's catch of fresh fish to the stands along the pier. You can easily recognize which of these colorful, chatty and able merchants are the fishermen as they hang around behind each stand. Dealings with fishermen here are straightforward. While some might offer market prices considerably lower than those of a regular fish shop, the negotiating calls for skill and experience as well as the ability to distinguish the quality of the fish.
The selection is limited compared to what you would find at a fish shop, owing to the fact that everything sold along the pier is fished just hours before. Nothing could be more local, seasonal and sustainable.
Further on are the stalls run by the Mare Nostrum cooperative, another recommended place for buying excellent fresh fish and a good choice for non-experts like myself. This is where I ran into Moreno Pellegrini.
Moreno Pellegrini and his stamp-sized kitchen
Moreno is not just a fisherman. He also organizes fishing trips for tourists, taking sea- and fish- lovers on a unique experience on his boat. The day's catch becomes the meal, prepared in Moreno's very small yet nicely equipped kitchen (it made me rethink my views on small spaces, actually).
My experience in Viareggio turned out to be one of the most meaningful of my journey through Tuscany's markets. Moreno added some chairs to the table on his boat, then squeezed into this tiny kitchen and invited us to lunch. Between the hypnotic rolling of the sea and aroma of garlic and oil filling the air, I spent a few hours watching the secrets of seafood cooking unveil before my eyes: the highest quality fresh fish, quick cooking times and, per Moreno, a grating of lemon zest to lend that extra special touch to every dish.
On his boat we tried an epic trabaccolara pasta, which inspired the following recipe included into the book. In this Christmas version I replaced the fresh tomatoes with a few tablespoons of tomato purée and the mezze maniche with homemade potato gnocchi.
Gnocchi alla trabaccolara
This dish takes its name from trabaccolo, a kind of vessel used by the fishermen of San Benedetto del Tronto. The name is a bit misleading, however, given that the dish is as much a piece of Viareggio tradition as is Carnival.
In the period between the two world wars, many fishing families from San Benedetto del Tronto left the Adriatic. Compelled by poverty and losses resulting from World War I, they moved to Viareggio, where some of their fellow citizens had already set up a colony in the late 19th century.
Trabaccolara is a poorman's dish, made with the demersal fish unsold at market. This sauce traditionally accompanies large bowls of spaghetti or linguine, but you can also use hollow short rod pasta like paccheri or mezze maniche for a nice result: the flavors of the sea mixed with tomato fill up the pasta to lovely effect. Today I used this dressing for fresh gnocchi.
If you want to make your own gnocchi, you find an old recipe here or here.
Gnocchi alla trabaccolara
Print Recipe
Pin Recipe
Share by Email
Ingredients
For the fish fumet
Bones from the fish used for the sauce

1

basil leaf

1

tablespoon

of tomato purée

1

teaspoon

of salt
For the gnocchi sauce
300

g

(10 and 1⁄2 oz) of fish fillets

,

(mullet, rockfish, striped seabream, gurnard, weever fish...)

2

whites of spring onions

1

piece

of dried chili pepper

2

tablespoons

of tomato purée

zest of 1⁄2 an organic lemon

a few basil leaves

extra virgin olive oil

1/2

cup

of white wine

800

g

of fresh gnocchi
Stay Hungry with our Newsletter!
Subscribe to Letters from Tuscany and receive blog updates, new stories and exclusive recipes.
Instructions
Ask your fishmonger to fillet the fish for you, or do this yourself if you're able. Save the fish carcass. Add the fish bones to a pot with 2 l of water. Add the tomato purée to the water along with the basil leaf and a teaspoon of salt. Cook on low heat for about 1 hour. Filter the liquid and top up with more fresh water to cook the gnocchi in.

Make the sauce for the gnocchi now. Finely slice the onions. Add the onion and the tomato purée to a large pan together with a piece of dried chili and the lemon zest. Tear in some basil leaves. Add a small amount of oil and cook on low for 7 to 8 minutes.

Next add the wine, raise the heat and reduce.

Add the fish and cook until tender enough to break with a fork. Remove from the heat and set aside.

Cook the gnocchi and gently remove them from the boiling water with a slotted spoon.

Add the cooked gnocchi to the pan along with a ladleful of the pasta water. Toss gently and serve.
Order now the Cucina Povera Cookbook
100 recipes to celebrate the italian way of transforming humble ingredients into unforgettable meals. ORDER NOW!
Ideas for an Italian Christmas Eve Seafood Feast
My family does not celebrate Christmas Eve with a big meal: usually we eat something very simple to run to the mass in a small country church around 9pm. A few minutes before the mass begins, a bunch of old ladies arrive breathless with freshly styled hair and their woollen cardigans soaked with the smell of broth and meat sauce, a clue which reveals a lot about their Christmas menu.
Though I have collected here some ideas taken from the blog archive for a festive menu based on fish. If you celebrate Christmas eve with a fish feast, maybe you can find some new ideas to add to your repertoire.
Starters
Octopus salad with olives and pine nuts
This octopus salad with olives and pine nuts was born during a hot summer, but it might work very well also as a not too complicated appetiser in a festive fish menu. Picture a boiled octopus the same colours as a summer sunset at the seaside, tangy and refreshing green olives and pine nuts, smelling of sunburnt Mediterranea maquis. All of this comes together thanks to a drizzle of olive oil, fruity and light. Within just under half an hour you'll be able to prepare an octopus salad to serve as an appetiser or as a light main course.
Anchovy and breadcrumb cake
Anchovies are an affordable, sustainable, healthy fish. Despite my family love for salmon in the '80s, a local anchovy is certainly more sustainable, cheaper and tastier than an endangered Atlantic salmon. Remember that fish also has its seasonality: check this chart for UK, this for USA and this for the Mediterranean Sea. You find the recipe for this anchovy and breadcrumb cake here.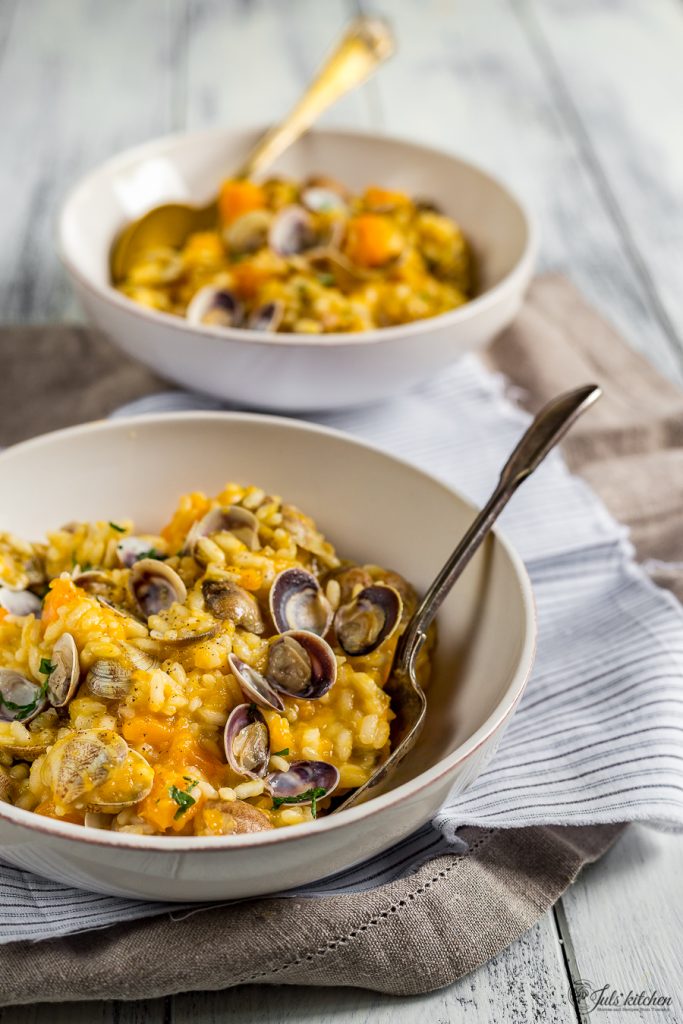 First courses
Butternut squash risotto with clams
Along with the gnocchi alla trabaccolara, one of my favourite first courses here on the blog, a butternut squash risotto with clams.
At first it seems an unusual and risky pairing. I had the same feeling as I was stirring the risotto in the pot while the clams where opening up in the pan, releasing their salty smell. Instead it turned out to be a winning match. Be generous with clams, they not only will add an unusual purple shade which will create a stunning colour contrast with the orange risotto, but will also soften the sweetness of the butternut squash with their natural saltiness.
You can make the risotto just with extra virgin olive oil and garlic, without adding butter or cheese. You will have a light first course which won't miss a delicate creaminess, as the butternut squash will melt slowly while cooking.
Main dishes
Sweet and sour salt cod
Reading La cucina livornese, written by Aldo Santini, a food journalist from Livorno who obviously had not a very good opinion of Artusi, I found also a recipe for baccalà in agrodolce, a sweet and sour salt cod with raisins and pine nuts. This recipe perfectly represents the Livornese cuisine, made of poor fish, tomato paste and enlivening influences brought by other cultures, all welcomed and absorbed by a town which is not just a melting pot, but a pot of steaming cacciucco.
Sea bream with lemon, bergamot and sandy potatoes
More than a recipe, this is an inspiration, an idea. We are in the citrus season, so what's better than an oven roasted sea bream lined with slices of lemon and bergamot (but also bitter oranges, if you prefer), to lend softness, freshness and a delicious citrussy note. Scatter a few sliced red potatoes around the fish and sprinkle everything with a mixture of breadcrumbs, pistachios and fennel fronds. Season with extra virgin olive oil, salt and pepper, then stash in oven at 200°C. The cooking times will then depend on the size of the fish: my one-kilo sea bream was ready in 35 minutes.
Side dishes
Spinach flan
In the '80s, in my family, the spinach flan would always be served along with the oven roasted salmon. Why not to serve it with the citrus roasted sea bream?
Fennel and orange salad
Another seasonal idea for a side dish would be a shaved fennel salad with segments of oranges briny olives and a simple dressing of extra virgin olive oil, orange juice, salt and pepper.