Vegetarian lentil ragu. A gift and a pasta dressing
Aunt Silvana arrived on a Sunday morning. While my uncle Giovanni parked the car with care in the farmyard, and then stopped to chat with dad, who would surely be working in one of his sheds to fix something broken, my aunt would get into the kitchen in a rush, surround us with hugs, kisses, a cascade of questions and words. Aunt Silvana is my mum's twin sister, they speak on the phone at least twice a day, as they have always something impelling to tell each other. When they visit each other, though, the chats are not over, as something inevitably escaped their radar during the usual phone calls.
Without interrupting her river of words and tales, she would pull out of a bag everything she had brought us: two ounces of prosciutto, should she stay for dinner, too, some bread, the already cooked Swiss chard, squeezed and made into balls, and, usually, a jar of ragù, her signature meat sauce.
Look, I brought you aunt's ragù, she would say to Claudia, at that time a picky eater, who was anyway already tempted by a well seasoned pasta, especially when dressed with aunt's meat sauce, with Letizia's pomarola or Rosanna's sugo di pomodoro. As the Romans would say, nemo propheta in patria, meaning no man is a prophet in his own land. And indeed our sauces were usually snubbed, even that delicious ragù my grandmother would make, cooking it slowly on the stove with that patience and dedication that only grandmothers have.
Claudia has grown up now, she has expanded her culinary horizons, becoming over the years one of my best tasters, usually the most curious and impartial, open to new challenges and combinations. My aunt's habit of bring us a jar of meat sauce, though, did not disappear.
The ragù, just like the tomato sauce, gets better if cooked in large quantities, in pots that look like tubs, with someone in your mind, so as to distil your thoughts and stir them with the olive oil and the vegetables, making a deliciously invaluable sauce.
A ragù to give as a gift
We often talk about gourmand gifts for Christmas. Take home made biscuits and cookies, chocolate truffles, jams and preserves…but have you ever thought about how much dedication, how much love and complicity are hidden in a jar of meat sauce?
When a friendship becomes intimate and goes beyond a mere acquaintance, a carefully gift-wrapped jar of ragù, a tomato sauce with the aromas of summer as red as an august sunset or a rich nut pesto are a precious gift, something worth to be dedicated to the people we care about, to those who can appreciate this concentration of dedication and love.
Your friend who has just given birth to a baby will remember you with gratitude when she'll be able to enjoy a generously dresses pasta, balancing a newborn baby on one arm while with the other hand she wields a fork with a hunger that finally knows no obstacles. The family with small children will breathe a sigh of relief as often aunt's ragout is the novelty that brings everyone to the table, even the picky eaters. Those who don't have time and they are facing a hard time, will appreciate this simple and spontaneous gesture.
Lentil ragu with butternut squash and dried porcini mushrooms
All these thoughts were crossing my mind as I was chopping all the vegetables for this lentil ragu with butternut squash and dried porcini mushrooms, the second recipe I developed for Luciana Mosconi, a seasonal dressing for their rustic casarecce.
Cook a generous amount of this sauce and use it in these days of celebration: use it to season a bowl of tagliatelle during a family meal or spoon it into a jar to gift someone, a present which is worth a meal.
Today's ragu is a vegetarian sauce for pasta which won't make you miss meat: there are lentils, the backbone of the sauce, an abundant amount of finely chopped vegetables, which is the secret of my grandmother's classic ragout, the butternut squash, which melts into a cream, giving colour and flavour to the sauce along with a generous spoon of tomato paste, and dried porcini mushrooms, which add a depth of taste, an instant reason to celebrate.
Lentil ragu with dried porcini mushrooms and butternut squash
Ingredients
30

g

of dried porcini mushrooms

1.8

l

of boiling water

2

carrots

2

stalks of celery

1

medium leek

,

green and white part

1

red onion

1

clove

of garlic

1

sprig of rosemary

5

tablespoons

of extra virgin olive oil

450

g

of butternut squash

,

cut in small cubes

500

g

of lentils

1

tablespoon

of tomato paste

Salt

Black pepper

500

g

of tagliatelle Casarecce Luciana Mosconi

Parmigiano Reggiano
Instructions
Put the dried porcini mushrooms in a bowl and cover with boiling water.

Finely chop the carrots, celery, leek, onion, rosemary and garlic and collect them in a thick-bottomed pot. Add the extra virgin olive oil and a generous pinch of salt.

Stir and cook on low heat for about 10 minutes, until all the vegetables are soft.

Add the diced butternut squash. Cook for about 10 minutes.

Remove the dried mushrooms from the water and squeeze out the excess water. Keep the water aside and add the porcini into the pot.

Add also the lentils, stir to mix and cover them with half of the mushroom water, where you'll have previously melt a spoonful of tomato paste.

Cook over low heat for about 25-30 minutes, checking often that the lentils do not get too dry and adding the remaining water. Season with salt and pepper when the lentils are almost ready.

The ragu will be ready when it will be thick and the lentils soft and almost melting into the sauce.

Cook the tagliatelle in a large pot of salted boiling water, drain al dente and toss with the lentil ragu, finishing with some grated Parmigiano Reggiano.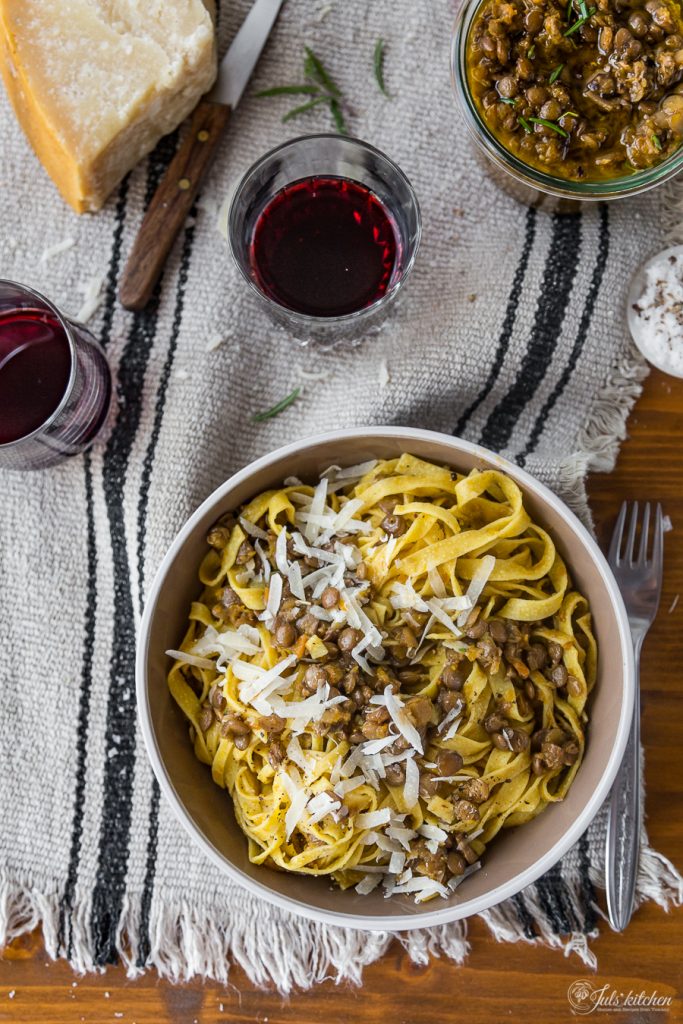 Speaking of gourmand home made gifts…
Are you more traditional and want to prepare cookies for Christmas? Here you can find a collection of Christmas cookies for an Italian feast.
Do you prefer preserves? We have something for every taste: homemade mustard, bitter orange marmalade or bergamot marmalade, quince jam or butternut squash and almond jam, but also quince paste, to be wrapped in yellow paper. Here you will find many other ideas, just get lost in the pages of the blog, in one of my favorite categories, that of jams and preserves.