An Italian Christmas vegetarian menu and an artichoke and green olive tapenade
Today I'm sitting in the living room, right in front of the wood-burning stove: finally the cold weather has arrived. I'm not used to stay still anymore, so I immediately seek a source of heat: a cup of steaming black tea, a wool blanket, the roaring fire.
We spent the weekend at home.
The weekend goals were simple: writing this post – which I'm finally doing on a Monday – and decorating our Christmas tree. The plan was uncomplicated, but we got a bit sidetracked by the "we just need to clean the living room before decorating the tree" thing. We ended up turning the house upside down, cleaning it with a crazy enthusiasm: do you know when you take out your toothbrush to clean the kitchen burners? So we managed to light the tree lights only a few minutes before going to sleep on Sunday evening. Mission accomplished. Well, at least one.
I fed the Christmas Cake again with brandy. This is a relatively new tradition for me, compared to panforte and ricciarelli, yet it feels as natural and familiar as the spiced Sienese treats I've been eating for Christmas all my life. I inhale its unique smell made of spices, prunes and brandy and I instantly feel the taste of the first wet, dense, alcoholic, adult bite, which will close our Christmas Eve dinner, our Christmas lunch, and many more meals, through New Year, until not even a crumble will be left.
When has Christmas started to be so tied to food?
In the '80s, Christmas was an orange and bottle green Tom & Jerry tracksuit, oven roasted salmon with a spinach flan, supermarket-bought ricciarelli covered in chocolate, so sweet that my teeth would hurt. In the kitchen I was just an observer, my role in the family lunch relegated to setting the table and arranging thin slices of smoked salmon on top of already buttered toasted slices of bread.
Christmas was a wonky tree in the hallway that lit up that otherwise dark corner every night, Disney movies, a yellow sack of a duvet in which my dad would collect all the presents.
In the '90s I became a big sister. A blond sister with enormous pure blue eyes and sparrow hair had arrived, and it was my responsibility to introduce her to the magic of Christmas, Santa Claus, fragile Christmas baubles, a crowded nativity scene and nordic legends.
The taste of Christmas was in the thick pandoro slices we would warm by the fireplace, a treat to dunk in our daily cup of tea with lemon juice. My role in the kitchen was not changed, just like our family Christmas menu: along with the oven roasted salmon and spinach flan there were my grandma's lasagne, classic or with mushrooms.
When the new millennium began and I turned twenty, I started to make my way through the kitchen, especially with desserts and appetisers. It was difficult to undermine the tradition, but my family slowly understood it was time to abandon the '80s. And the salmon. On our table dressed for the festivities appeared the bollito misto, steaming piles of boiled beef and chicken, the roast beef and the stewed wild boar.
I would begin to listen to Christmas songs in November, dreaming of a snowy romance like in a movie, but I was still a child, waiting for the Christmas morning, its silence, and the moment when my sister would wake me up to run downstairs to unwrap the presents in the living room, in my pyjamas, in front of the Christmas tree, which in the meantime had changed its location.
In 2009 I start this blog and it changes everything, even my approach to Christmas. We introduce new traditions and the whole family succumbs to the home-made trend.
For decades we have chosen our Christmas sweet treats at the supermarket, searching for a good offer, but now ricciarelli, cavallucci and panforte have to be home-made from scratch. Fresh pasta becomes a protagonist. My role in the kitchen evolves, though I need to pay attention and practice diplomacy not to step on the toes of those who still rule the kitchen, namely mum and grandma.
Christmas has a more adult taste, that of the panforte spices, artisan candied citrus peel, Christmas cake and home made cappelletti, made according to my friend Valeria's recipe.
And here we are, Christmas 2018.
I'm thirty-seven, this is my first Christmas as a married woman, we'll spend it at home with our two families.
Once again, food will dominate our festivities, a glue that made us into a family, an opportunity to get to know each other, to take care of us as a family, to weave origins and traditions into a new pattern.
In the last five years along with ricciarelli, panforte and Christmas cake we've been eating the Apulian cartellate drowned in honey, pasticciotti and rustici from Salento: new accents, new bonds, a larger family.
What will we be eating this year?
At the moment the only certainty is the Christmas cake, which I've been feeding with brandy since September. I know I'll get drunk with it. As usual it won't be a lavish lunch: we will choose dishes that have a meaning for us, we will try to combine them in a menu that makes sense, we will divide the responsibilities and we will discover the result of this precarious alchemy only when we will sit at the table.
To compose a menu is my favourite activity in every family gathering: not by chance we use the same verb that we would use for a symphony. I like to find the common thread, so that every course has its role in the balance of the whole meal.
Tommaso and I had fun imagining three menus, a vegetarian one for a festive lunch with friends, a fish menu for the Christmas Eve dinner and a traditional Tuscan menu for Christmas. Today we begin with the vegetarian menu, and with a new recipe for an appetiser based on olives and artichokes.
Artichoke and green olive tapenade
In our family the Christmas appetisers have always been the Tuscan crostini neri and some white bread, slightly toasted and smeared with butter, then covered with thin slices of smoked salmon, with a tiny triangle of lemon to decorate it. When I started thinking about an appetiser for a vegetarian menu, I clashed with a tradition that has always included chicken livers, spleen or smoked fish. Every idea that came to mind had at least a few anchovy fillets hidden inside for a flavour kick.
So I surrendered to a seasonal ingredient, artichokes, I added a few handfuls of green olives and turned them into a tapenade which tickles the appetite thanks to the briny capers. An excellent extra virgin olive oil and the juice of half a lemon balance the creaminess and acidity of the tapenade, making it suitable both for smearing on toasted bread and as a dip for a raw seasonal vegetable pinzimonio.
The real Provençal tapenade has just black olives, capers and anchovies as main ingredients. So bare with me if I borrowed its name to describe my artichoke and green olive spread: it sounded much fancier with a Fresh accent. If you want to make the real deal, follow Felicity Cloake's recipe to make the perfect tapenade. David Leibovitz has a recipe for a tapenade with dried figs which is as festive as a carroll singer.
Artichoke and green olive tapenade
Serve this artichoke and green tapenade spread on toasted bread slices or as a dip for a pinzimonio of raw seasonal vegetables.
Ingredients
To cook the artichokes
4

artichokes

250

ml

of water

50

ml

of extra virgin olive oil

1

lemon

1

clove

of garlic

salt

black pepper
For the tapenade
250

g

pitted green olives

2

tablespoons

of salted capers

½

lemon juice

50

ml

of extra virgin olive oil
Instructions
Start by preparing the artichokes. Fill a bowl with water and squeeze in a lemon. Clean the artichokes, removing the hardest outer leaves. When you reach the pale tender leaves, rub the artichokes with the two lemon halves, cut them in a half and plunge them into the lemony water.

Gather the artichokes in a saucepan, cover them with water and pour in the olive oil, season with salt and pepper and add a small wedge of lemon peel and a clove of garlic.

Cover the saucepan with a lid and cook the artichokes over medium heat for about 20 minutes, until they are soft enough to be easily pierced with the tip of a knife. They should also have absorbed all the water. Let them cool down.

Once the artichokes are cold, collect them in the jug of a blender. Add the pitted olives, the rinsed capers and the lemon juice.

Blend until you get a thick and smooth pâté, then transfer it into a bowl.

Add the olive oil and stir to completely incorporate it. Now taste and adjust the acidity with some more lemon juice if needed.

Use it immediately or keep it in the fridge in an airtight container until needed. It stays good for a few days.
Vegetarian Christmas Menu
We are not vegetarians, though our meals often revolve around seasonal vegetables. Thinking about a vegetarian Christmas menu was simple, especially as I already knew that the stars of our meal would have been a butternut squash parmigiana and a lentil ragu which won't make you miss meat even if you are the most convinced carnivore.
What would you include in a vegetarian menu for Christmas? Do you have any recipe that you would like to add? I'm especially curious to discover new appetisers.

Appetisers. Artichoke and green olive tapenade and fresh bread
Even the simplest spread or dip becomes outstanding if you serve it along with some freshly baked bread.
You can bake a Tuscan bread loaf.The ingredients required to make a Tuscan bread are few and essential: flour, yeast and water. Use a strong flour – or bread flour – just for the starter, which will give the bread its unique aroma. To knead your loaf of Tuscan bread, though, use a weak flour*, or an all purpose flour, which will give the loaf its typical texture, a crisp crust and a fairly dense crumb. Or if you want, you can bake a multigrain bread loaf.
Primo. Tagliatelle with lentil ragu
Today's ragu is a vegetarian sauce for pasta which won't make you miss meat: there are lentils, the backbone of the sauce, an abundant amount of finely chopped vegetables, which is the secret of my grandmother's classic ragout, the butternut squash, which melts into a cream, giving colour and flavour to the sauce along with a generous spoon of tomato paste, and dried porcini mushrooms, which add a depth of taste, an instant reason to celebrate. You fin the recipe for the lentil ragu with dried porcini and butternut squash here.
If you want to make your own home made tagliatelle, here you can find a recipe for spelt tagliatelle, which is my favourite match with lentil ragu.
Main. Butternut squash parmigiana
The baked squash is quick to prepare and if you brush thin slices with extra virgin olive oil they'll become crisp, keeping a soft and sweet heart, just like the eggplant slices you would fry at the end of summer. Then you proceed as in the most classic of parmigiana: a good tomato sauce, pieces of mozzarella torn with your hands and heaping tablespoons of parmigiano reggiano. Be generous, please. You find the recipe for the butternut squash parmigiana here.
To simplify the organization of the big day, make the small parmigiane in advance and choose individual ramekins, then you just have to heat them up a few minutes before bringing them to the table. And as in the case of a classical parmigiana or lasagna, taste and texture will get better the day after.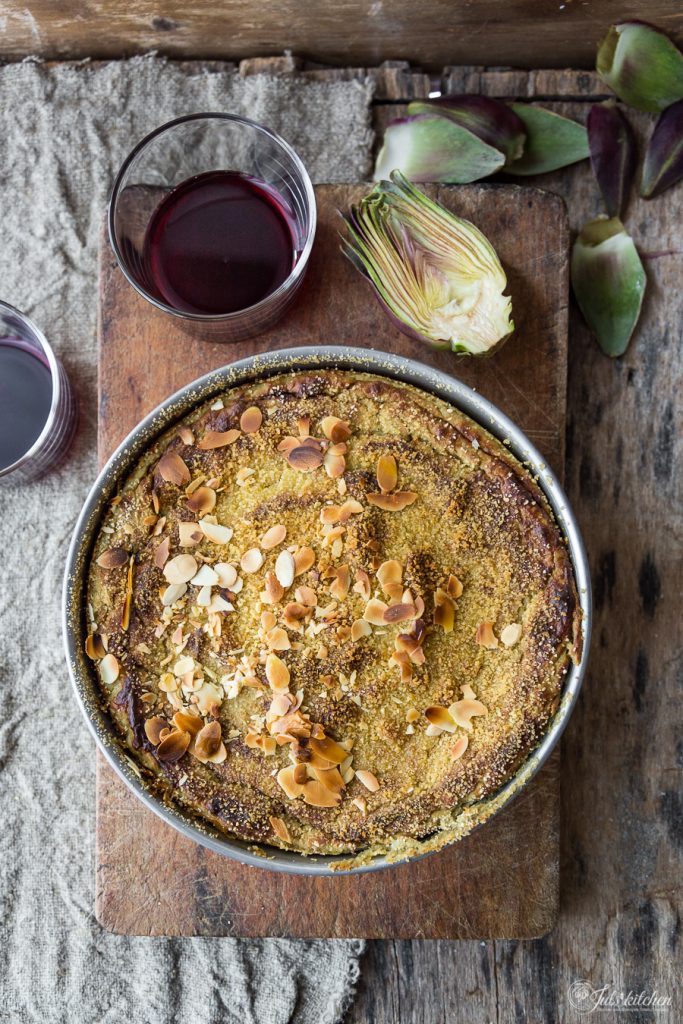 Christmas side dishes. Artichoke flan and fennel gratin
Flans have always been the dish that can not be missed on our Christmas table. Over the years our main courses evolved from the '80s baked salmon to a more traditional boiled meat course, from stuffed roast chicken to arista alla fiorentina, but never, ever, we sat at the Christmas table without baking a vegetable flan. This one is made of artichokes, pureed and mixed with ricotta instead of bechamel, but it remains just as soft, rich and festive as we expect from a Christmas side dish. Add a sprinkle of sliced almonds in the last minutes of baking for a elegant touch of crunchiness.
Here you find a collection of Christmas side dishes.
Dessert. Christmas tea tiramisu
I've been making a tea tiramisu for some years now. I opt for tea instead of coffee when I want to change the classic version without adding too much to the coffee tiramisu, as strawberries or pineapple. I also have a friend who, despite being a passionate coffee lover, fails to appreciate any dessert containing it. This tiramisu is suitable for her but also for the upcoming holidays, as the tea spices colour the tiramisu with the warm hues of Christmas.
You can choose to serve the tiramisu in the classic rectangular shape, in glasses to highlight the different layers or even in tea cups, which recall the peculiarity of this tiramisu and somehow manage to contain the voracious appetites of the most passionate tiramisu lovers. Here you can find the recipe for the tea tiramisu. if you prefer to use beer instead, the recipe for the beer tiramisu is here.