Mensanello, a working Tuscan farm, and a beer tiramisu
For years Mensanello has been just a nearby working Tuscan farm. My grandmother has aways referred to the Fattore and Fattoressa, the farm manager and his wife, with enormous respect. Mum used to buy fresh eggs from the Fattoressa, we used to go there on a Sunday to mass. There was a huge Maremmano shepherd dog who would placidly walk along the road in front of the church. The view over the valley and the wheat and barley fields is at its best from Mensanello, the colours changing according to the season. We would go to the restaurant in Mensanello to celebrate Easter, or for a family lunch when we were too numerous to fit in hour house. In October or November, it changes from year to year, we would bring our olives to their olive oil mill to press: we would stand there, waiting, anticipating the unique smell of freshly pressed olive oil.
When I began teaching cooking classes, Mensanello became the agriturismo I would recommend to my guests, but also to my friends, so close to home that if you want you can drive back there for a nap after lunch.
Today Mensanello is all of this, and much more. We use their wine and their extra virgin olive oil during our cooking classes and we open their beer when we bake pizza in our wood burning oven. We are friends. We consider ourselves lucky to be able to grow together in this lesser known part of Tuscany, supporting each other and meeting over a good meal, uncapping a bottle of beer, as this is when the best ideas show up.
One of our 2018 projects is to bring here on the blog artisans, local producers and friends, to give them a face and a voice, to share an inspiring story, or simply to make you travel to a true, authentic Tuscany.
Today we want to tell you about Neri, about Tenuta Mensanello, about a job that changes continuously throughout the year, about a rural restaurant where you can taste the products of the farm, about an olive oil mill where, during the olive harvest season, you can find him in the wee hours, about his passion for artisanal beer, about a village where the daily rhythms are still dictated by the needs of the countryside and, eventually, about a beer tiramisu.
Mensanello is a typical Tuscan working farm. Can you tell us something about its history?
Tenuta Mensanello has a long history, just imagine that many buildings of the farm were already mentioned in the 1765 Leopoldian land registry. For my family the story inside the Mensanello Estate begins in the first half of the 20th century, when my grandfather Alessandro and my grandmother Ada were the managers of this beautiful farm in the heart of the Chianti area.
The farm went through the short twentieth century under the guidance of my grandparents first, then of my uncle Filippo. Mensanello has always been a dynamic reality that has been able to adapt to the changes and the needs of the historical context. Initially the farm had a large breeding of Chianina cattle with its related crops, then this gradually reduced, until it ceased in the '80s. At the same time the farm decided to invest in two important new activities: they built an olive oil mill to press not only their olives but also those of the neighbours (ours included), and a winery to produce their own wine.
More recently, in the '90s, Tenuta di Mensanello has been one of the first farms to become an agriturismo, offering accommodation to tourists and visitors. This activity, strongly connected to farming, has also significantly helped the company and has allowed, and still allows, the renovation of several farmhouses, originally used by farm workers, located a few hundred meters far from the farm centre. Along with the agriturismo, just over 10 years ago, we opened also a rural restaurant where you can taste our products.
So, you look quite busy with all these activities to manage. Which is your typical day at Mensanello?
To answer this question, let me quote my agronomy professor at the university, who claimed that the first answer of an agronomist to a question related to agriculture should be: it depends. Obviously this answer had to be developed into a series of consequent reasonings, unless you wanted to be kicked out of the exam! So I would say that the typical day at Mensanello highly depends on the season and on the farming activities related to that moment of the year.
In Spring, when Nature awakes, you must constantly follow the vines in the vineyards. Summer is the season of tourism and cereal harvest, and it ends up with the grape harvest, perhaps one of the most important and busiest moments for us. Autumn follows with the sowing of the fields, the winery activities to control the wine making process, the olive harvest and the activities in the olive oil mill, which are very intense but unique. Finally, winter, a period when everything slows down, a good moment for holidays, you would think. The vines, though, can not wait and must be pruned, the various maintenance activities for the tourist season are looming and a new year is already upon us. In short, the beauty of the farming activities is that you do not have a single typical day, so I had to stretch the scale to a typical year!
Many activities take place over the year. Which are the agriculture and farm products of Mensanello?
We cultivates cereals and fodder, grapevines and olive trees, as well as having a woodland area, where we breed free range pigs. From the agricultural raw materials we directly produce IGT and DOCG wines, extra virgin olive oil and craft beer inside the small brewery built in 2016.
These products can be purchased directly at the farm shop or tasted at the Tenuta restaurant. The meat and charcuterie produced on the farm land in very small quantities are instead exclusively used in our restaurant.
Beer is your passion, and you managed to introduce a small brewery in the farm. What is beer for you?
Beer for me is experimentation and method, creativity and precision. Making beer is a pleasant hobby that I managed to incorporate into the farm activities, albeit in a micro dimension, but definitely not less gratifying. Beer is a farm product and being able to brew it within the farm is like closing a circle. We cultivate barley, we make it malt, we think abstractly about which kind of beet to produce, we fine tune the recipe and then we actually brew it. Oh the satisfaction when you finally taste your beer!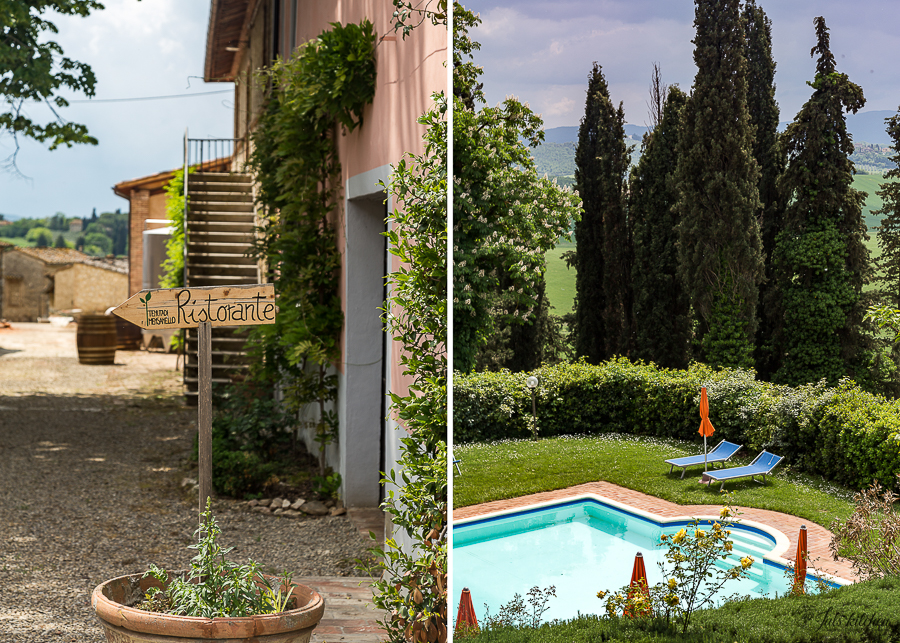 The 1st edition of MAFF will be held on June the 3rd in Mensanello. Where did the idea come from? What can we expect during the day?
I had this idea for quite some time, then meeting you and Tommaso and talking about it helped me to turn it into a reality. My aim was to open the Mensanello village to local people and tourists to convey the idea that the countryside and the farming activities are alive and dynamic, not something to leave untouched, something far and dead. The MAFF, which stands for Mensanello Arts and Food Festival, will host during the day several workshops and talks focused on food, territory, art and wellness. Within the village we will set up a small market with stalls of local farmers, artisans and artists. We will help to quench the hunger and thirst of the guests with panini con la porchetta, good wine and our own craft beer! The evening will end up with two live concerts in the farmyard.
Thank you so much Neri! So we are waiting for you in Mensanello on Sunday the 3rd of June!
We will be there, too, to talk about our book, From the Markets of Tuscany, and my sister Claudia will host a natural cosmetic demonstration.
Craft beer tiramisu
When we talk about tiramisu, I agree with Oscar Wilde. The only way to get rid of that creamy and white temptation is to yield to it. I take a spoonful, an innocent taste, I like the spoon clean, then I clean the bowl with a finger. I foretaste the tiramisu that will come, its soft and rich delight.
I've tried tiramisu with coffee, black, bitter, without sugar, for the iconic version of a tiramisu, with black tea, a spiced one or an Earl Grey, with the subtle citrusy hint of bergamot, and now with beer. I used the beer to make a sabayon with egg yolks and sugar, then I gently folded in mascarpone and whipped cream. If you want, you can follow the same process with marsala or vinsanto.
Some coarsely chopped dark chocolate is mandatory, too, as it is the right balance to the creamy mascarpone and to the soft savoiardi, lady fingers, soaked in beer.
Here it is the recipe for this craft beer tiramisu. I used the Mensanello American Brown Ale, but you can use any dark beer with toasted notes of chocolate or coffee, like a Belgian abbey beer, stout or porter.
Craft beer tiramisu
Ingredients
For the beer sabayon
4

egg yolks

100

g

of sugar

4

tablespoons

of American Brown Ale or a dark beer
For the tiramisu
400

g

of fresh mascarpone

250

ml

of cream

200

ml

of American Brown Ale or a dark beer

200

g

of savoiardi

,

ladyfingers

50

g

dark chocolate

Unsweetened cocoa powder

,

to decorate
Instructions
Collect the egg yolk in bowl or a saucepan suitable for a bain-marie. Add sugar and beer to the yolks. Whisk the ingredients until thoroughly combined, then put them in a double boiler.

It is important not to heat the yolks abruptly, as you might find yourself with a prosaic batch of scrambled eggs. Keep whisking the yolks over slowly simmering water until you'll get a thick and smooth zabaione. It will require from 10 to 12 minutes.

Move the zabaione into a small bowl and place it into a larger bowl filled with cold water and ice cubes. Keep stirring until it is cold.

Now beat in the mascarpone and mix thoroughly, until you have removed any lump.

Whip the cream and fold it gently into the mascarpone.

Take 8 small glasses. Put on the bottom of each glass a savoiardo, quickly dunked into the beer. Cover with a layer of mascarpone, then add some chopped dark chocolate, then another layer of soaked savoiardi, a layer of mascarpone, a third layer of soaked savoiardi and finished with a layer of mascarpone.

Dust with cocoa powder and sprinkle with dark chocolate, then stash in the fridge for at least an hour before serving.