The four seasons of chamomile. Chamomile panna cotta with cherries
Nonna still keeps her big book on herbs and flowers on a bookrest in her living room. It has a central position in her home. When I was a child, I could spend hours leafing through that massive, fascinating volume, full of drawings, photos, recipes and remedies. Summer had the intoxicating scent of linden flowers and the more delicate, almost maternal smell of chamomile. I had learned to recognize it, a happy and curious plant, among the wheat ears in the fields, when in June, after the end of school, my three months of wilderness began.
The days around St. John, on June 24, have always been full of meanings, of references to pagan traditions, of ancient symbols.
The harvest of green walnuts to make nocino, the thick liqueur as black as a starless night, that you usually drink in autumn, gathered around the fireplace. The water of San Giovanni, a basin filled with water where herbs and wildflowers, especially St. John's wort, would sit for the whoile night: in the morning you would wash your face with that flowery water and preserve your beauty. The walks in the countryside to collect the chamomile after the oak grove, at the edge of the wheat field.
I have always considered chamomile an infusion with magical powers.
In winter, after dinner, I would melt a teaspoon of honey in a cup of steaming chamomile. I would drink it hot, and it would put me to sleep. Lukewarm, with a squeeze of lemon juice, it would chase away my fears and the ghosts awaken by the tolling of the bell tower that marked every hour when I was sleeping in San Gimignano with my aunt for a few days of holidays. I was missing my mum and my bed, but that chamomile smelled like home.
Now it's my favourite drink for the cold season: during the day, as I write or cook, I pour a teaspoon of dried chamomile flowers into a teapot and fill it to the bring with boiling water. The flowers swell, the yellow heads bring a ray of sunshine even on the most grey and rainy day. I drink it in big sips, it warms me from the inside out, it still tastes good, like home. In the evening after dinner a chamomile tea sends me to sleep, just like it did when I was a child.
It would be a mistake, though, to relegate chamomile to the role of a calming winter drink. I drink it even during summer, warm or cold: a pitcher of chamomile infusion, a handful of ice cubes, a few sprigs of fresh mint, slices of lemon or ginger. Try it.
The last step I was missing was using chamomile in the kitchen. Usually I choose dried petals of rose, lavender or even elderflower to infuse cream or milk when I make a dessert, this time I used chamomile to make a panna cotta that celebrates these magical days of early summer.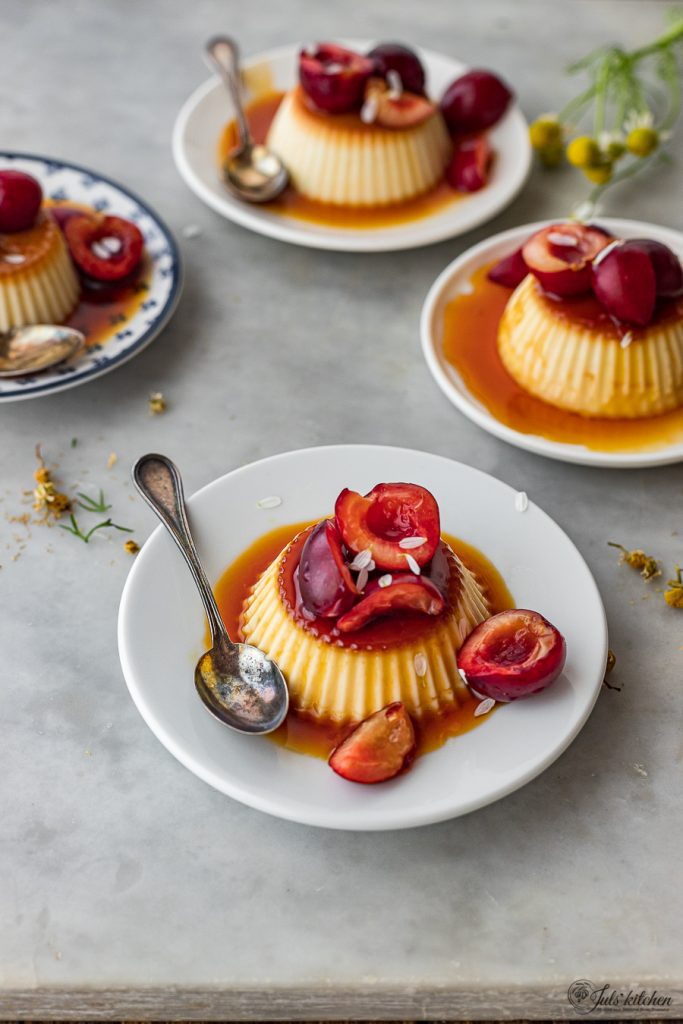 Chamomile panna cotta with cherries
The recipe is a classic: cream, milk, sugar, gelatine sheets. Chamomile adds a floral and herbaceous note. You can simmer it in cream, or infuse it overnight. On the bottom of the panna cotta, a veil of caramel, to add a bitter note and to give the finished dessert the colour of a summer sunset.

You can serve the panna cotta pure, as it is, or add some cherries, simply dressed with sugar and fresh chamomile petals. Red like rubies, with a meaty texture and a floral and spicy aroma, these cherries crown the panna cotta, bejewelled for a summer garden party with fireflies and the scent of linden trees in bloom.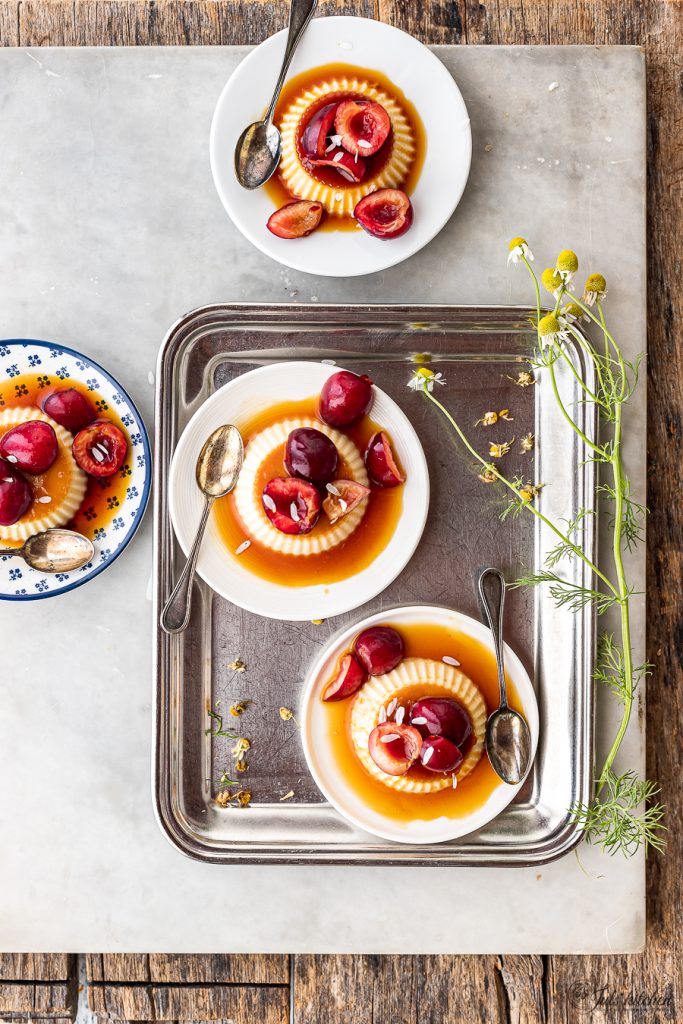 Chamomile panna cotta with cherries
A classic panna cotta infused with chamomile flowers, decorated with a light caramel sauce and meaty cherries, with a floral and spicy aroma.
Ingredients
Ingredients for panna cotta
500 

ml

(

1

pt

)

fresh cream

,

34% fat

100 

ml

(

3.38

floz

)

fresh whole milk

4

tablespoons

dried chamomile flowers

50 

g

(

3

tbsp

)

sugar

12 

g 

(

0.42

oz

)

gelatine sheets*
Ingredients for the caramel sauce
Ingredients for the decoration
100

g

(

3 ½

oz

)

cherries

1

tablespoon

sugar

A few dried chamomile flowers
Instructions
Pour cream and milk in a saucepan, add sugar and chamomile. Warm cream and milk until they begin to simmer, then remove from the heat. Let sit until flavours are infused, about 10 minutes.

Soak the gelatine sheets in cold water for about 5 minutes, or until soft.

Strain cream and milk through a fine sieve into a bowl, squeeze out excess water from the gelatine, add it to the cream, and then stir to dissolve it.

Now prepare the caramel. Add the sugar to a small pan and melt it on medium heat without stirring until golden. Swirl the pan to melt the sugar.

Spoon the caramel into six glasses, if you want to serve the panna cotta as it is, or into six ramekins or moulds, if you want to unmould the panna cotta and serve it with the caramel on top.

Pour now the cream over the caramel sauce and leave it in the fridge until the next day.

The next day, prepare the cherries. Rinse them, halve and remove the pits. Collect the cherries in a bowl and dress them with sugar and chamomile flowers. Stir and let sit for about 5 minutes.

To unmould the panna cotta, dip the moulds briefly into a bowl of warm water, 30 seconds should be enough, then invert onto plates.

Spoon the cherries over the panna cotta and serve immediately.
Chamomile panna cotta with cherries. A summer menu
Let's celebrate summer with a seasonal menu with red hues.
Spaghetti aglio e olio with slow-roasted tomatoes. Preparing this recipe is like concentrating summer in a dish. The slow-roasted tomatoes are cooked slowly in the oven to deepen their sweet flavour. Choose tomatoes of different colours – yellow, red, brown… – so that they will also give an unusual chromatic appeal to your spaghetti. Once the slow-roasted tomatoes are ready, you can store them in the fridge for several days. Add them to the most classic of the Italian dishes, spaghetti with garlic, olive oil and chilli pepper, for an easy and flavourful summer dish.
Eggplant meatballs in tomato sauce. According to the season, you can substitute roasted eggplants with boiled potatoes, roasted butternut squash or breadcrumbs soaked in milk. I usually choose between grated Parmigiano Reggiano, aged Pecorino or Provolone to add flavour to the meat, sometimes adding brined capers, too. This time I opted for Parmigiano, along with a pinch of dry oregano to give a Mediterranean touch.
Cooking with an Italian Accent. The podcast
Ep.14. Eating during the heatwave. Eating during the heatwave, the Italian way. Recipes and ideas that will help you survive the summer heat.
How do you face a heatwave? Do you cook or you just avoid it as long as you can? Which is your perfect recipe to fight the heat? Listen to the new episode here.
Link love
A few interesting links.