Eggplant meatballs. Suspended between Summer and Autumn
I sat down and pour myself a tiny glass of vino di visciole, a sweet wine made with sour cherries, a bottle left from a past weekend. The memories of those two days spent with some friends will be indelible just like the red cherry stains on my lips. We chose a weekend that was a bridge between August, the month of empty cities, Italian holidays and silent streets, and September, the time of the big coming back, of the scent of must, of new notebooks and rediscovered routines.
The light after the sudden storm that put an end to the August heatwave was already distinctly different. I could read there a nostalgia that perfectly reflected what I was feeling inside.
Although I had longed for this change of temperatures and for the triumphal entry of September and its new colours with trepidation, I am torn. I am suspended between the obvious satisfaction of inhaling the smell of rain when I open up the kitchen windows in the morning and the awareness that another summer is coming to an end, with its store of good intentions and its lists of things to do and to change still to tick off.
I am already working on autumnal recipes based on pumpkin and porcini mushrooms, those of Christmas are just around the corner. I'm buying books on cooking techniques and food writing, I'm downloading interesting lessons and podcasts to start studying again as soon as the season gets cooler and the time of cooking classes drifts towards the low season.
I clearly perceive that fruitful excitement that marks the first days of school.
I found myself thinking with a pang of nostalgia about the evenings when we ate out with a concert of crickets, cicadas and frogs as a background, about the pheasants singing far in the fields when the light goes down, about the acqugym lessons in the outdoor pool that made me feel on holiday even without leaving for distant destinations, about the spots of colour of tomatoes among the leafy and shady vines, about the freedom with which I tied my hair for months to fight the heat.
Even though I had little time for myself and I managed to accomplish just a tenth of everything I had planned, even though my diet proceeded steadily but too slowly and my reading aims broke on a soft pillow and a fresh bed, I leave reluctantly a season that gave me a light heart and a subtle tan, a memory of a few days spent in Maremma in a June that seems already so far away and so long ago.
In these days, years ago, I would have sharpened my pencils and put them on a chromatic scale, inebriated by the good smell of wood and colour. Today I do the same with flours, legumes and dried fruit, I stock up the pantry to start again, even though, after all, I never stopped.
This nostalgia that lingers at the mouth of my stomach speaks of new beginnings and summer remnants, of sunshine hours first carefully avoided and now savoured with pleasure, as with the last juicy peaches of the season. You try to impress their taste on your tongue as not to forget it when apples, pears and citrus fruits will invade the market benches.
The sense of here and now sharpens up, as you can not give the summer here and now for granted anymore.
The eggplants, which I have grilled for months, their smoky scent a constant presence in every dinner in the garden, now become something to cherish and enjoy, as you can see the end of their season on the horizon. Though here it comes again, the desire to cook something more structured, to turn on the oven, to mop a rich sauce with a piece of bread. So I cook meatballs with tomato sauce, with roasted eggplants inside.
Eggplant meatballs in tomato sauce
I've become a fan of meatballs in the last years, growing up in a house where mum used to make instead a tasty and dense meatloaf, deliciously browned and served with a thick sauce. So I came up with its mini version just when I started to cook for two, for me and Tommaso.
According to the season, you can substitute roasted eggplants with boiled potatoes, roasted butternut squash or breadcrumbs soaked in milk. I usually choose between grated Parmigiano Reggiano, aged Pecorino or Provolone to add flavour to the meat, sometimes adding brined capers, too. This time I opted for Parmigiano, along with a pinch of dry oregano to give a Mediterranean touch.
Garlic is essential in meatballs. Instead of adding it raw and finely chopped to the ground meat, I caramelized the garlic cloves in the oven along with the eggplants: it is more delicate and marries beautifully the smoky taste of roasted eggplants.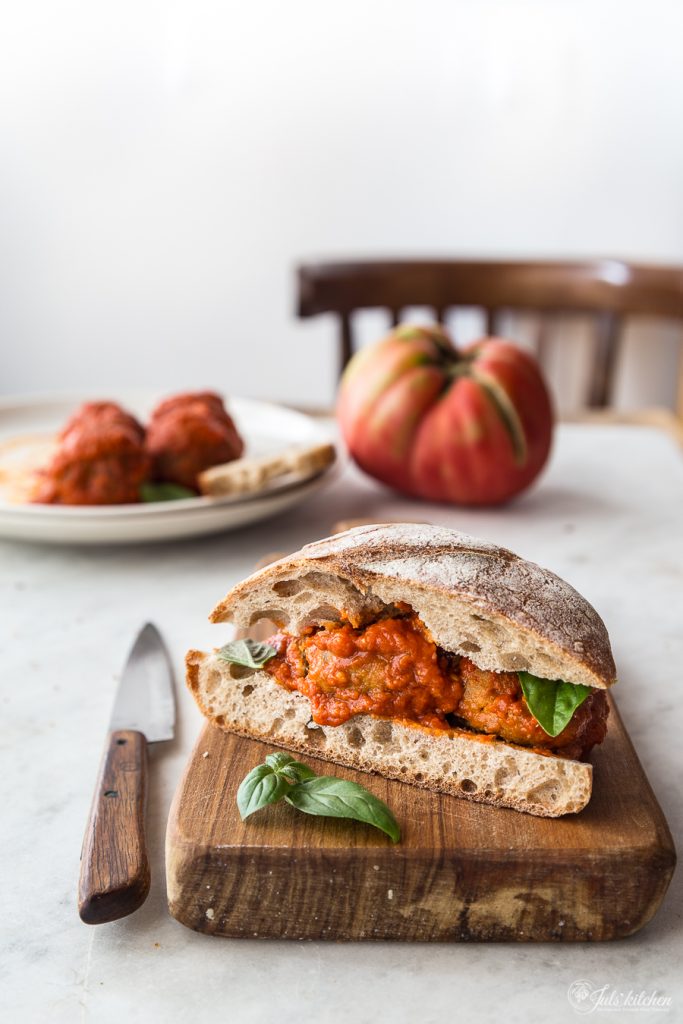 The last thing I have to say, these meatballs demand to be eaten with bread, as it would be a serious sin not to mop the sauce on your plate. If you have leftovers, why don't you sandwich them in between two slices of bread for your lunch break?
Eggplant meatballs
These meatballs demand to be eaten with bread, as it would be a serious sin not to mop the sauce on your plate.
Serves
12
meatballs, enough for 4 people
Ingredients
For the meatballs
360

grams

(

12 2/3

oz

)

ground beef

1

eggplant

2

cloves

of garlic

Extra virgin olive oil

Salt

1

teaspoon

dry oregano

1

egg

2

tablespoons

breadcrumbs

,

plus more to coat the meatballs

2

tablespoons

grated Parmigiano Reggiano
For the tomato sauce
300

ml

(

1 1/4

cups

)

tomato purée

2

tablespoons

extra virgin olive oil

1

clove

of garlic

Some basil leaves

Salt
Instructions
Heat the oven to 200°C. Rinse the eggplant and cut it in half lengthwise. Place it on a baking tray, cut side up and score the flesh in a diamond pattern. Brush with olive oil and a tablespoon of water. Sprinkle with salt and add the garlic cloves, without peeling them.

Roast for about 50 minutes or until the eggplant is golden and so soft that it can be easily emptied with a spoon.

Collect the eggplant pulp in a bowl. Add the garlic pulp, squeezing it out from the peel. Now add the ground beef, the dried oregano, the breadcrumbs, and the grated Parmigiano. Season with salt, add a slightly beaten egg, and mix the ingredients thoroughly with your hands to get a homogeneous and dense mixture.

Make now 12 meatballs, shape them with wet hands or with an ice-cream scooper: I found out that it is the quickest and cleanest way to have meatballs all of the same size.

Coat the meatballs in breadcrumbs, then place them on a baking tray and drizzle with olive oil.

Check that your oven is still at 200°C and bake for about 20 minutes or until golden.

In the meantime, prepare the tomato sauce. In a pan large enough to contain all the meatballs, pour two tablespoons of olive oil, add the garlic, some basil leaves and the tomato purée—Cook for about 10 minutes on low heat. When the meatballs are ready, remove them from the oven and add them into the pan to cook for the last 5 minutes so that they can absorb the sauce and gain a deeper and sweeter taste.

You can serve them immediately or set them aside and warm them up just before bringing them to the table.
Eggplant meatballs in your cooking repertoire
After reading Cooking for Mr. Latte, by Amanda Hesser, I fell in love with the concept of having a cooking repertoire, and I decided to share here on the blog these recipes, staples of a Tuscan repertoire, analysing the ingredients and the process with plenty of details so that, if you want, you'll be able to include them into your collection and make Tuscan cooking your signature style.
I chose these recipes not to impress, but to nourish, and because, using Amanda Hesser's words, they would express my true sensibility as a cook, not my ambition.
All the recipes of my cooking repertoire
These are all the recipes I added so far into my cooking repertoire. This is an ever-growing list, an always expanding collection that represents the way I live Tuscan food and cooking. Have you already tried something?
Crespelle alla fiorentina. It is a handy recipe to learn as you can vary the filling according to the season: asparagus, artichokes and butternut squash are some of my favourites along with spinach and Swiss chard. You can mix the vegetables with fresh milky ricotta or add some béchamel into the filling. Cheese is a welcomed ingredient: Parmigiano Reggiano, Tuscan or Roman Pecorino, ricotta salata, or any other savoury aged cheese that you would happily grate over your pasta.
Ricotta and Tuscan kale gnudi. There are two crucial ingredients here that can help you ease the anxiety while waiting for your gnudi to float tot the top: ricotta and cavolo nero, the Tuscan kale. Use a well-drained ricotta and squeeze very well the cooked kale. Once you make this, they will be your next success in the kitchen.
Tuscan ragù. The Tuscan ragù is cooked with red wine, poured in little by little, and with tomato purée (just tomatoes that have been peeled and blended into a sauce), even better if it is your homemade tomato purée, made during the heat of summer. To give more character to the ragù and have a more rustic sauce, sometimes I prefer to replace the passata with the same weight of peeled tomatoes, roughly crushed with my hands.
Main courses and side dishes
Stuffed turkey breast. One of the recipes that my mum taught me and that I immediately associate with Sunday lunches is the stuffed turkey breast, roasted on the stovetop and not in the oven. It is a humble dish, but it has enormous potential.
Baked eggplants. Colours and textures of that once loved recipe surfaced along with the ingredients: eggplants, of course, either the round purple ones or those thin long ones, then breadcrumbs, parsley, capers, garlic and some grated Parmigiano. There it was, my forgiving recipe, thick slices of eggplants topped with boldly flavoured breadcrumbs, roasted in the oven until golden and crisp.
Italian potato salad. So a potato salad, which I had overlooked for years, becomes a distinguishing element of a menu, especially if you dress it with an Italian twist, with wild fennel, capers and olives. You can find the same aromas in a roasted pork loin with olive oil and wine, or in the baked eggplants that you are planing to serve as an appetiser.
Desserts
Apple olive oil cake. You can dress it up for a dinner party: serve a slice of warm apple cake with a scoop of vanilla gelato, a cloud of whipped cream or a drizzle of custard. Wrap in foil a slice of cake for a school break or an office break. Bake the olive oil apple cake on a Sunday and enjoy it for breakfast on the first days of the week with a strong coffee or a cappuccino.
Coffee and vanilla pound cake. A versatile recipe to make a pound cake with the ingredients you have at hand, with a detailed explanation of the four macro-categories of ingredients you can use, plus a recipe for a vanilla pound cake marbled with coffee, designed to wake you up in the morning. Use white farro flour, white sugar and dark cane sugar, Greek yoghurt and butter.
Ricotta crumb cake. I still have to decide if I prefer the cake warm from the oven, or after a few hours in the fridge. This ricotta crumb cake is an unmissable summer cake, and I'll let you decide when to serve it, if you are in hurry or armed with adamant patience.
Link love