Rustici, a street food from Salento, Puglia
Although we had been friends for several months, in the first weeks of us being officially together we did not miss an opportunity to talk about who we were, what we liked, which were our first and deepest passions. We spent ten days at the seaside in Maremma with friends: every spare moment was dedicated to discover each other, talking about museums and cookbooks, Lego and Apple, families and friends, about the places we had visited and those we wanted to.
Every revelation, small or big, was a way to understand the other and our newly-born relationship, to focus on the despite and the right because.
I already knew that Tommaso's mum was from Salento, in Apulia, but I did not know how deep his roots were until the pasticciotti and the rustici were mentioned.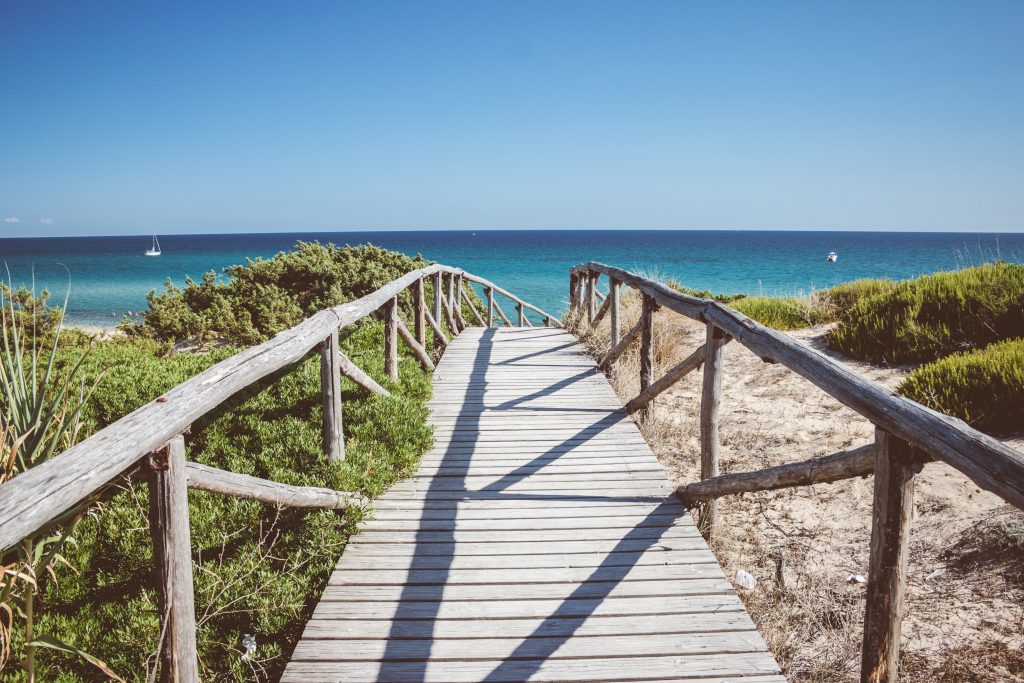 When we'll go to Puglia, in Salento, you'll see how beautiful the sea and the beaches are there. And the food, he told me, you'll have to try the pasticciotti and the rustici. The rustici, mainly.
As here in Tuscany we have the schiacciata doused with olive oil and the little rice pudding tartlets, in Salento they have pasticciotti and rustici. The first are delicate oval tarts, a crumbly shortcrust shell made with lard, filled with a sweet and thick custard. There are many variations, even with sour cherries in syrup, but Tommaso has always preferred the classic ones.
Then there are the rustici, two discs of puff pastry stuffed with béchamel and mozzarelal, both seasoned with a generous pinch of black pepper and a few peeled tomato fillets. They are golden, heavy in your hand, slightly greasy. The best representation of a Southern street food. Every family has its favourite bakery or pastry shop where to buy the rustici, nothing is left to chance.
I mentally archived his strong preference for rustici, sure that sooner or later I could play this card.
After the holidays at the beach, the time came for the first home-cooked dinner at me.
Tommaso had already come for dinner countless times, but always with a bunch of friends. This was the first time it was just the two of us, in my cosy kitchen overlooking the fields at sunset. It was September, the month when you usually are forced to go back to normal life after the carefree summer. It was time for a new routine that for the first time in my life was really, deeply, radically new. I didn't want to warm up the leftovers of a cooking class, I could not start from something so prosaic. I wanted to cook for him something new, something that would leave him speechless. Rustici, I thought.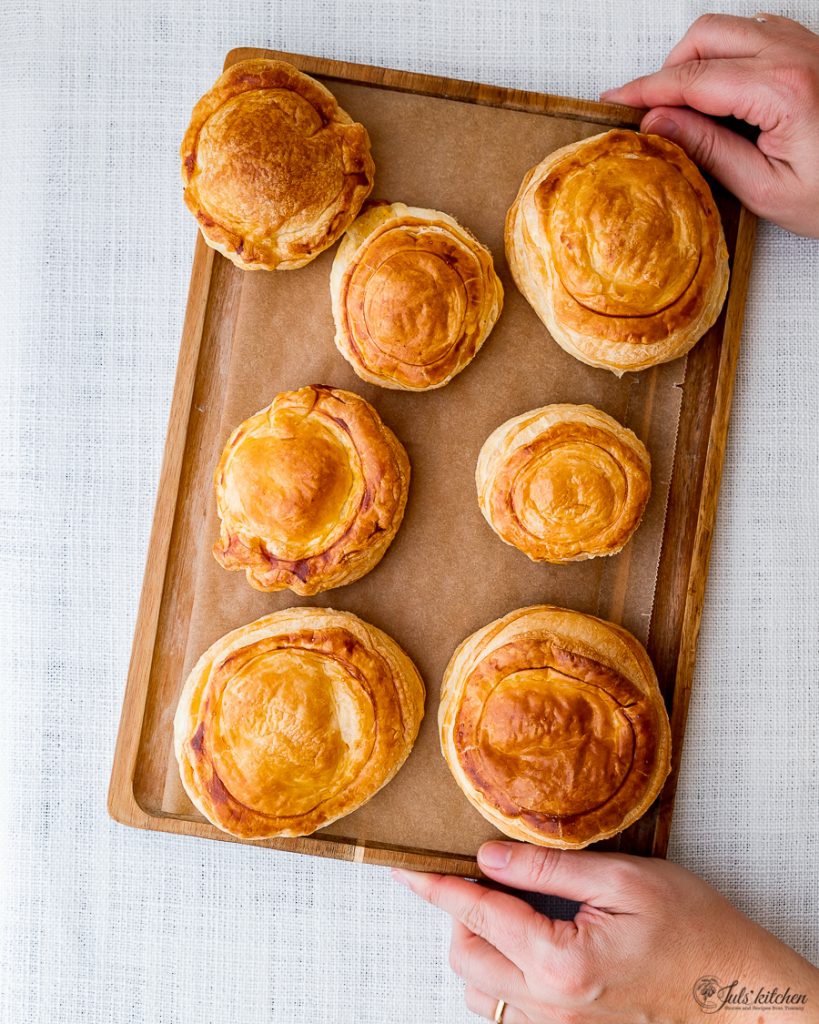 Making the rustici without having even tasted them was an act of foolishness, just as rolling out home-made puff pastry on a late summer afternoon: too hot, too sticky, too messy. But I tried, I did my best, I also managed to burn the rustici on the bottom. Luckily that evening I had also a plan B, the leftovers of the cooking class of that day, which once again saved me and laid the foundations for a domestic routine that still continues, after more than five years.
When I finally had the chance to taste the real rustici, those of the only bakery in Lecce where Tommaso's aunt allowed us to buy them, I realised that puff pastry, béchamel, mozzarella and tomatoes are combined in a way that goes far beyond what you can imagine.
In the rustici that Tommaso loved, and that I have learnt to appreciate too, there are the memories of the summers spent at the seaside in Porto Cesareo, of the elegance of the white city of Lecce and of that unique blinding light that I've seen only there, of the dusty roads that cut centuries-old olive groves, of the masserias scattered in the countryside, of the afternoon controra, when you are supposed to stay at home to have a nap, behind closed doors and windows, as outside is way too hot even for breathing, of the evening walks along the seafront with the brackish smell of seaweed mixed to the wafts of fried fish coming from the little restaurants on the beach, of the Thursday market where to buy capers, taralli and dried oregano.
I had not ventured to make the rustici again after that first home-cooked dinner, well aware that the substratum of memories is activated only with those coming from Puglia in a white cardboard tray, wrapped in a glossy white paper, with grease stains here and there. During the Christmas holidays, though, Claudia, Tommaso's cousin, spent a few days with us. It seemed like the right chance to bring a little taste of Salento into a Tuscan kitchen. This time we went close, very close, to the real rustici.
Rustici, a street food from Salento
The rustici are a street food, a snack, that can be found in bakeries, bars, cafés and pastry shops in Lecce and Salento. You eat them when you are rather peckish, when you crave for them, in the middle of the morning, in the afternoon as a snacks, late at night or, something that Tommaso loves, for breakfast.
A little disclaimer. For this recipe I used the ready made puff pastry. I do not usually buy it, as I prefer to solve the lack of home-made puff pastry for a savoury pie with a quickly put together brisé, a dough made with olive oil and white wine or a quick and fabulous pie pastry. To make the rustici, though, you can use only puff pastry: as the flu was already looming, eventually the convenience of a ready made puff pastry won. I used 3 rectangular packs. If you have home-made puff pastry, good job, surely your rustici will be lifted onto another level of buttery flakiness.
In the traditional recipe of the rustici the filling is very basic: béchamel, mozzarella, peeled tomatoes and ground black pepper. Nothing else would pass the threshold. I admit that other Mediterranean ingredients just like anchovy fillets, briny capers or a pinch of dried oregano might complement the filling, but I would never say this aloud or confess it to Tommaso and his family.
Rustici
The rustici are a street food, a snack, that can be found in bakeries, bars, cafés and pastry shops in Lecce and Salento. You eat them when you are rather peckish, when you crave for them, in the middle of the morning, in the afternoon as a snacks, late at night or, something that Tommaso loves, for breakfast.
Ingredients
Ingredients for the rustici
Approximately 800 g of ready-made puff pastry

,

3 rectangular sheets

200

g

of fresh mozzarella

2

peeled tomatoes

1

egg
Ingredients for the béchamel
25

g

of butter

25

g

of flour

300

ml

of whole milk

1

pinch

of salt

Grated nutmeg
Instructions
Start by making the béchamel. Melt the butter in a saucepan on medium heat. When melted, spoon in the flour and whisk for a few minutes until golden and toasted.

Pour in the cold milk in a thin stream, stirring constantly to avoid lumps.

Cook on medium-low heat until thickened and season with a good pinch of salt and grated nutmeg as to give the béchamel a delicate spiced smell.

Transfer the béchamel sauce into a bowl and let it cool.

When the béchamel has cooled down a bit, add the mozzarella cut into small pieces and a sprinkling of black pepper.

Cut the tomatoes into fillets, drain them and put them aside.

Now prepare the rustici. Heat the oven to 200°C (390°F) and line a baking sheet with parchment paper.

Roll out the dough and cut out 18 discs 10 cm (about 4 inches) wide. There will be leftover puff pastry dough, cut smaller discs from there.

Place a third of the discs on the baking sheet and brush them with a beaten egg.

Place another disc on top of them - you'll have a more resistant bottom -, then brush the edges with the beaten egg.

With a spoon, place the béchamel sauce with the mozzarella in the centre of each disc, then arrange a few pieces of tomatoes on top. Leave more or less a finger all around the filling but be generous with it!

Cover the filling with the last disc, pressing your fingers all the way around to seal the edges. Press a smaller cookie cutter, as large as the filling, onto the rustico, to give it its traditional shape.

Brush the rustici with the beaten egg.

Bake the rustici for about 20 minutes, or until they are well puffed up and golden.

You can eat them immediately, or wait and have them warm. They can be kept in the fridge for 1-2 days, just heat them in the oven or in a non-stick pan before eating them.
Serve the rustici with…
Technically speaking, rustici are a street-food and a snack, so they do not fit into a traditional menu, being it for lunch or for dinner. However, they fall into a hypothetical menu inspired by Tommaso's tastes: his mother's artichoke focaccia, the Roman-style semolina gnocchi of his childhood, the rustici from Lecce, a beer tiramisu. As the old saying goes, the way to a man's heart is through his stomach.
semolina gnocchi. They are a dish to keep in mind for family gatherings or dinners with friends, as the gnocchi can be prepared in advance and then you can baked them at the very last minute. This makes them suitable for your midweek dinners, too, when you are running out of time and all you would love is someone who could feed you a comforting dish of gnocchi alla romana.
artichoke focaccia. This is not a proper focaccia, as it is made with stale bread and artichokes. The result after one hour of baking is beyond imagination: crisp on the outside, it keeps a moist and almost melting centre, where all the flavours have perfectly mingled. Brace yourself and wait until warmish, when it will give its best. As an ideal picnic food it can be enjoyed even when cold. Cut out small pieces, wrap them in parchment paper and use a nice kitchen string to keep it closed.
beer tiramisu. I've tried tiramisu with coffee, black, bitter, without sugar, for the iconic version of a tiramisu, with black tea, a spiced one or an Earl Grey, with the subtle citrusy hint of bergamot, and now with beer. I used the beer to make a sabayon with egg yolks and sugar, then I gently folded in mascarpone and whipped cream. If you want, you can follow the same process with marsala or vinsanto.
Link Love