A guide for a weekend in Gambassi, in the heart of Tuscany.
To visit the hill town of Gambassi, a few weeks ago, we took the road to the Tuscan coast, passing from Volterra. Shortly before Volterra, we took a detour. We drove through oak woods and Mediterranean scrub, in a wild landscape that first brought us to the mountains and, immediately afterwards, behind a bent of the road, to the Tyrrhenian coast.
This is one of Gambassi's magic tricks, it makes you feel on holidays, wherever you feel like going.
You can sense the other magic as soon as you set foot in town. Gambassi is a medieval village as many others in Tuscany, but it remained out of the limelight during those years when other towns in the same area became mass tourism destinations. Stroll through its cobblestone streets, enter a bar for an espresso, sit down for a drink on a terrace overlooking the public gardens, and you'll have the feeling of being the first one to have discovered this gem of a town.
On the one hand, you'd tell everybody about the charm of this hilltop town, nestled in a favourable position in the Elsa valley, along the Via Francigena and the Via del Sale. On the other hand, though, you cherish this feeling of being a pioneer in Tuscany. There's no way you're going to share the news.
Enter a café two mornings in a row, and you'll be recognised and greeted with a ciao when you order a macchiato, the ultimate dream of those who travel to blend in with the locals. You can buy local artisanal pasta made with heirloom varieties of wheat, or shop for fruit and vegetables at a shack along the road.
Gambassi is a destination for a slow and experiential tourism.
The thermal baths, the hiking trails along the ancient routes of religious pilgrimage and salt trades, farms, vineyards and olive groves: it all adds to the encompassing experience. Many are the dreamers who moved here from other parts of Italy to start a business: some an agriturismo, some a winery, others a dairy farm. They all were first scrutinised with curiosity, and afterwards warmly welcomed, so that they soon called home this corner of Val d'Elsa.
Although we live so close to Gambassi, we had never had the chance to properly visit it. When Ilaria, a friend from the university years, invited us to spend a few days there, creating for us a tailor-made weekend with the activities offered by The Gambassi Experience, it seemed like the perfect occasion to discover a lesser known part of Tuscany, yet so close to the major tourist centres of our region.
Here's what we found.
Agriturismi and farms
A Terra
Piazza Roma, 5 – Gambassi Terme (FI)
http://www.aterra.it
Aterra was born in 2013 from an idea of Luca Pedrini, who took over the family farm, collecting more than twenty years of work and experience in the biodynamic cultivation. Today, Luca grows ancient varieties of wheat and produces dried pasta and baked goods, respecting the ingredients, the times and the tradition.
Aterra is a workshop – where the high quality dry pasta is produced in the traditional way, from milling the flour to the bronze wire drawing to a slow drying process – but also a shop in Piazza Roma. Here you can buy their products and those of friends who share their philosophy: seasonal fruits and vegetables, cold cuts, cheeses, rice, flour, wines and craft beer.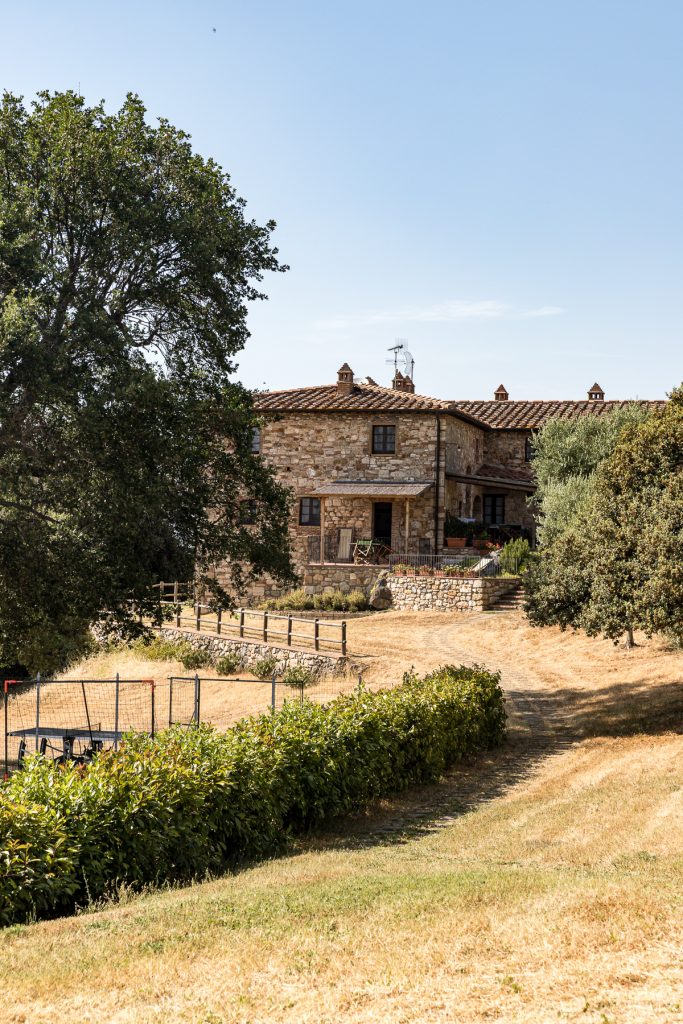 Agriturismo Vaianino
Località Montignoso, 78 – Gambassi Terme (FI)
http://www.agriturismovaianino.it
Right between Gambassi and Volterra, in a landscape of woods, Mediterranean scrub, fields of farro and olive groves, you find the Agriturismo Vaianino.
The 200-hectare farm produces Tuscan PGI extra virgin olive oil – a blend of moraiolo, frantoio and leccino olives -, and cereals, mainly farro. Since the 2000, the production of wheat, farro, fruit, vegetables and olives is completely organic.
The Agriturismo Vaianino is an ideal place to relax, nestled in the woods at the end of a white road, with a swimming pool among the olive trees overlooking the valley, six apartments, the silence of the countryside, the breeze coming from the sea and a restaurant for their guests.
Azienda Agricola Pietralta
Via Camporbiano, 45 – Gambassi Terme (FI)
http://www.pietralta.it
You reach Pietralta driving along a white road in between vineyards, oak woods and Mediterranean scrub. As you see at the end of the road the imposing farmhouse that dates back to the 1200s, you try to imagine what Franca and her husband could have felt when, in the '80s, they left Milan to build a new life here from scratch, among young vineyards and olive trees.
From the city to the woods of Gambassi, on a hill overlooking the ancient Benedictine Convent of San Vettore, where Santa Fina from San Gimignano lived, they found a farmstead located right along the old Via Salaiola that connected Volterra and Florence.
It took courage, determination, many sacrifices, but also a very precise vision and years of work without electricity and heating to allow Franca and her husband to transform a ruin into a working farm with a swimming pool, a cellar and four apartments that completely preserve the historic structure of the farmhouse.
You can choose to stay in Pietralta to visit the area, or just go for a wine tasting. Today it is Stefan, Franca's son, who follows the winery with excellent results.
In the Pietralta wine shop you can buy their products: four red wines – a Chianti DOCG, a Chianti Riserva DOCG and two Tuscan IGTs, Brinato and Solivagus, – a white IGT Toscano and Terra Rosa, a Tuscan rosé IGT.
Do you know that the labels of their wines are designed by Carlo Romiti, a local artist and painter, who reproduces ancient scenes of rock paintings with horses and wild boars, using as colours the local soil? You can read more about him here.
Fattoria Le Caprine
Strada Comunale di Varna, 123 – Gambassi Terme (FI)
https://www.fattorialecaprine.it
Three people, forty goats and a farm: Michela, Matteo and Raffaele moved here from Milan. They chose Gambassi to build their dream, made of hard work, passion and dedication. They found an old farmhouse with more than 150 years of history – with large grazing lands, a vineyard, an olive grove and woods -, and now they are slowly renovating it. It is here that the dairy farm Le Caprine was born.
Michela and Matteo make excellent French style goat cheese, including fresh, plain or seasoned, charcoal pyramids, ricotta and tomi with a blooming rind. The cheese is made with unpasteurized milk from their flock of independent and smart goats. A brave choice in the land of pecorino, our beloved sheep milk cheese. Raffaele, Matteo's brother, is instead taking care of the winemaking process.
You can visit Le Caprine and book a tasting, or, if you are in Florence, you can find their cheese every Saturday at the Campagna Amica market at Le Cascine.
Azienda Agricola La Taverna
Via Camporbiano, 43/a – Gambassi Terme (FI)
During the visit at the Fattoria Le Caprine we also met Maria Elena, of the Azienda Agricola La Taverna, who brought her preserves to taste with the goat cheese.
The Taverna produces beer, farro, extra virgin olive oil, aromatic herbs, saffron, preserves with unique pairings for cheeses, such as strawberry tree, green tomato and black pepper – sour and spicy-, lemon and sage – with a delicate musky taste-, chilli and red wine.
With Maria Elena, you can book a tour of wild herbs in the Mediterranean scrub, to discover their many properties and their uses, both ancient and modern.
Poggio Ai Grilli
Via Vecchiarelle, 166 – Loc. Varna – Gambassi Terme (FI)
https://www.poggioaigrilli.it
The Borghi brothers' farm produces wine, extra virgin olive oil, vegetables and fruit, all organically grown. You can buy fruit and vegetables directly at their small shack along the road, open every Tuesday and Thursday afternoon.
You can find here seasonal fruit, picked from the tree only when it is ripe, and local varieties of vegetables, such as the yellow and orange cauliflower from San Casciano or the Monnalisa potato from Mugello.
Where to eat
Pontormo Caffè
Via Volterrana, 34 – Gambassi Terme (FI)
Gerardo and Rosi welcome pilgrims and travellers at Pontormo Caffè at the entrance of Gambassi, along the Via Francigena, in a familiar and relaxed environment. The pilgrims of the via Francigena blend in with the locals, who stop for a cappuccino and a pastry, for an espresso, for a quick lunch, or for the famous donzelle, fried pizza dough.
Stop for a meal and choose one of the many pasta dishes, made with local and organic ingredients, or Gerardo's pizza, a masterpiece. He uses fresh products and organic durum wheat flour and lets the dough rise for at least 24 hours. With the pizza, choose one of the local craft beers.
Osteria Pinchiorba
Via del Teatro, 23 – Gambassi Terme (FI)
Take a walk in the old town of Gambassi, then take Via del Teatro and stop for dinner at the Osteria Pinchiorba, a country trattoria. You can dine inside the restaurant, or on the outdoor veranda overlooking the hills of Val d'Elsa. Here you will find meat, fish and excellent pizzas.
As for the appetisers, you can choose among local charcuterie and cheese boards, as the selection of goat cheese of Fattoria Le Caprine. The pasta is locally made with the heirloom wheat varieties of Azienda Agricola San Cristoforo.
What to do
Toscana Hiking Experience
Gambassi and its routes: the most famous is the Francigena, the pilgrims' route from Canterbury to Rome, and then down to Jerusalem, which passes by Gambassi in the stage that goes from San Miniato to San Gimignano. But there is even a much older one, the via Salaiola, that goes from Volterra to Florence along the ancient route covered by merchants and caravans loaded with salt.
If you are interested in nature, do not miss the ring of the bollori, the hypothermal springs, in the valley of the Casciani stream, one of the locals' favourite walks for a Sunday trip, for a picnic, for taking baths.
These bollori springs are pools of turbid water that simmer, not because of the heat – the water is barely 23°C – but due to the presence of gas. Alongside the bollori, you can spot also small geysers, created by emissions of gas and intermittent jets of warm water, a sign of the energetic and mineral richness of this land.
Visit to the Grottoes of Maurizio with Toscana Hiking Experience
There are many itineraries that you can explore with the Toscana Hiking Experience guides: we reached the bollori walking among vineyards and woods, then we ended the morning meeting a unique character who perfectly embodies Gambassi's identity as a town of charcoal burners, woodcutters, anarchists and hermits: Maurizio.

It is a fascinating journey, where you feel deeply in contact with nature and spirituality. You descend along a forest path down to a gorge, carved by the waters of the Casciani stream. Here Maurizio Becherini was a hermit, a builder, a worshipper and a dreamer for 14 years, from 1918 to 1932. He created his own Jerusalem made of votive statues, chapels, walkways and sacred niches. He used recycled materials, concrete and chicken coop net, bicycle wheels as halos, shells and buttons.
For years, while Maurizio was still alive, this has been a pilgrimage destination for local worshippers, but after his death Nature slowly took over that corner of forest and river, making this fusion between spirituality and naturalness possibly even more fascinating. Today you can visit the places of Maurizio's life with a Toscana Hiking Experience tour: once there, it is impossible not to be touched by a profound sense of sacredness and admiration.
The Gambassi Experience
Thanks to Ilaria and The Gambassi Experience we spent a weekend discovering Gambassi, its producers and farms, its stories and its nature trails. On the Gambassi Experience website you can find more information on local producers, activities to do, where to sleep and where to shop for local products.
Besides this, you can book directly from their website the experiences you want to enjoy during your stay: from wine and cheese tastings to horse and bicycle rides, but also truffle hunting, vineyard dinners, trekking, spa…
Gambassi, a starting point to discover Tuscany
If you choose to spend a few days in Gambassi, among the woods, the Mediterranean scrub, the ancient Via Francigena and Via Salaiola, the spas and nature trails, you can also use it as a starting point to organise some day trips to the surroundings destinations. Very close to Volterra, Certaldo and San Gimignano, Gambassi is also the ideal base for a tour of Siena, Florence and the Tuscan coast, both the Maremma and the Etruscan coast.
Here you will find our guides for some of the tourist destinations easily accessible from Gambassi.