A small guide to the Etruscan Coast in Tuscany
I began to tame my hair again with a headband to prevent the curls from falling on my face while I'm teaching a cooking class. We started to dine out again, sharing the leftovers with the family, watching the sun colouring with warm hues the hills beyond the olive trees. I fall asleep again without even realizing it, with my head sunk in the pillow and my bare legs messily searching for some fresh air out of the blankets. Each week is again a interlocking puzzle in between market visits, cooking classes and deadlines.
The high season has come, and, as every year, I disappear from the blog. I spend my free moments mentally writing all that I would love to tell you, but when I finally sit at my computer is already evening, and all I want to do is sink on the bed, abandoning myself to a restoring sleep, while Tommaso next to me leafs through a magazine and Noa gently snores from her carpet, at the foot of the bed.
A few days ago, though, we abandoned our routine made of dishware, pots and dishwashers to take part to Un Mare di Gusto, Palamita & Friends, a fish festival organized by the town of San Vincenzo, on the Tuscan coast, and Deborah Corsi, JRE Chef of the restaurant La Perla del Mare.
Four years ago I drove to San Vincenzo for the same event, which was then known as Tutti pazzi per la palamita. It was the right chance to rediscover this Tuscan coastal town and to meet for the first time Deborah Corsi, a chef which is for me an example of elegance and dedication. This year we decided to celebrate the beginning of a new exciting year with Tommaso, Rossella and Pato at Deborah's restaurant, La Perla del Mare, opening 2017 with a lunch on the beach, as moving as the entrée of raw fish I had. Walking along the San Vincenzo waterfront I promised myself that the new year would have had more sea and more blue, so we started working to honour that promise.
The book event for La Cucina dei Mercati in Toscana
We got an invitation to present our latest book, La Cucina dei Mercati in Toscana, during the Food Festival, and it looked like the perfect excuse to return to San Vincenzo without feeling too guilty about abandoning our daily routine.
Cristina asked me to join her on stage and we began talking about the book. Laughter and tears marked the talk. We laughed lightheartedly about fun stories on the people we met in the process of writing the book, then the tears came. They were grateful tears of surprise. I reckon I am quite emotional lately, especially during book presentations, when I am often overwhelmed by feelings. When I suddenly spotted an old high school teacher sitting in the audience, smiling at me, I was so surprised that started immediately laughing, then tears clouded my eyes. I tried to keep a cool behaviour, but I eventually gave up, and finished the talk with tears in my eyes. It is the most liberating feeling, that left me grateful and slightly dizzy.
** Read also Emiko's post on the process of creating the new cookbook! **
Our small guide to the Etruscan Coast
The weekend in San Vincenzo and the tour along the Etruscan Coast have been the right excuse to gather here some tips on what to do, see, taste and discover in this corner of Tuscan coast, which includes the territory of Livorno and some of nearby towns such as Piombino, San Vincenzo, Castagneto Carducci, Bibbona, Cecina, Rosignano Marittimo, Collesalvetti, Sassetta, Suvereto and Campiglia Marittima. This area was chosen by the Etruscans as a privileged place of residence: Populonia was the only Etruscan town on the coast.
Keep San Vincenzo as a starting point and explore the Etruscan coast from this charming town with a breathtaking waterfront. Like any other guide here on the blog, it is a constantly evolving list.
Where to stay
Relais Poggio ai Santi
It is an organic farm producing honey, extra virgin olive oil and wine, overlooking the hills and the sea. You will discover peaceful and tastefully decorated rooms, hidden among the pine trees.
Strada San Bartolo 100, 57027 San Vincenzo LI
http://www.poggioaisanti.com/
Organic Agriturismo SS.Annunziata
These are the producers we like, they fascinated us with their daily struggle to achieve excellence and to share it. We spent an interesting morning, intrigued by the attention and commitment they put to produce an excellent extra virgin olive oil. Not only extra virgin olive oil, though, but also agriturismo, an organic orchard, honey production, restaurant and camping area.
Via del Castelluccio, 142 – 57027 – San Vincenzo
www.ssannunziata.it
Organic Agriturismo Costa Etrusca
This agriturismo is located, as the previous ones, on the hills of San Vincenzo, among the olive trees. Costa Etrusca, opened by the parent of the current owners, has been the first agriturismo in San Vincenzo and the second in the province of Livorno.
Via del Castelluccio 127 San Vincenzo (LI)
http://www.agriturismocostaetrusca.it
Organic Agriturismo Podere L'Agave
Olive trees, century old trees, an orchard with ancient fruits, a vegetable garden, all organic. They raise also free range cinta senese pigs, which run happy among meadows and woods. Then rabbits, hens, Guinea fowls, donkeys and dogs. Podere l'Agave is a pet friendly and kid friendly agriturismo.
Strada San Bartolo, 19 – 57027 San Vincenzo (LI)
http://www.poderelagave.com
Tenuta Poggio Rosso Glamping
I don't know if I can camp, but I would definitely glamp here. Beautiful tent-lodges with all the modern comforts needed to ensure a warm welcome and a wonderful experience. They come with private facilities, a good-sized garden, a well equipped kitchen, air-conditioning and heating as appropriate to the season, all the bed and bathroom linen, a charming porch.
Località Poggio Rosso 1, 57025 Populonia Stazione, Piombino (LI)
https://www.poggiorossoglamping.it/
Where to eat
Livorno rarely falls into tourist itineraries, yet it has a peculiar charm and has so much to offer, especially from a gastronomic perspective. In the morning, take some hours to visit the Vettovaglie market, also known as Mercato Centrale, not only architecturally wonderful, but also the largest market in Europe. It is one of the best markets where to buy fresh fish, but you can also find any other product you come up with, from fruit and vegetables to bread and meat.
Just outside the market you can pop into Gagarin and try the famous cinque e cinque, the typical street food of Livorno.
On the Medici port, a short walk from the harbor piers to Sardinia, Corsica and Capraia, you can stop for lunch at L'Aragosta. In a quiet, sunny Saturday in the early August, sheltered from the veranda, we had here light and authentic dishes. Typical Tuscan seafood recipes and a selection of sweet treats from Campania and Sicily are a good excuse to visit this place again. After lunch have a walk along the Terrazza Mascagni, where all the people from Livorno have their walk to chat, catch up and look at the sea.
But we will talk more about Livorno.
La Perla del Mare, San Vincenzo
Deborah Corsi was a waiter, then she entered in the kitchen to clean the fish, then she fell in love and started to cook. In each dish you can still recognize the spark given by love and curiosity, which remain the cornerstones of her cuisine. I love how every dish is elegant and essential, as there is always what there has to be, never less, never more. For us it is the perfect place to celebrate a day to remember.
Via della Meloria, 9 San Vincenzo (LI)
http://www.laperladelmare.it
Ristorante Il Bucaniere, San Vincenzo
Fulvietto Pierangelini has a name undeniably linked to San Vincenzo, as his father, Fulvio Pierangelini, used to have a Michelin starred restaurant here in town. His cuisine, though, lives beyond that name. In the morning I get up, I have to clean the beach, I go fishing, I run a cinta senese farm in the hills, I run the restaurant and I'm in the kitchen, and of course I also want to spend some time with my family. He is eager to talk about his passion, to explain where the fish comes from and how to cook it, with honesty and genuineness. I've already written a blog post about Il Bucaniere, when we had a private lesson with Fulvietto Pierangelini, which began on a boat and finished in the kitchen.
Viale Guglielmo Marconi- 57027 San Vincenzo (LI)
http://www.ristoranteilbucaniere.com
Ristorante Dal Cacini, Suvereto
Fresh fish, the menu changes daily according to the catch of the day, so every time is a surprise.
Via del Crocifisso, 3 Suvereto (LI)
http://www.ilcacini.it/
Ristorante il Ciocio, Suvereto
Piazza dei Giudici, 1 Suvereto (LI)
http://www.osteriadisuvereto.it/
Farms and producers
Tenuta Poggiorosso
The current owners purchased the Tenuta Poggiorosso in 2002, after ten years of complete abandonment. The estate is made up of three different types of soil: there are the rocks of the promontory of Piombino, rich in limestone, which give a rich minerality to wine. There is the alluvial plain of Val di Cornia, which produces wine with full body and a fairly good alcoholicity. Then there are the red sands of Donoratico, along the Aurelia, from which the estate takes its name.
At Poggiorosso they work hard to transfer the characteristics of the terroir into each single bottle of wine. Although Tommaso and I are two neophytes for wine, this visit has opened our eyes: their dedication and commitment are tangible and contagious.
Their wines have always a name linked to the Etruscan history. We bought a bottle of Losna, the Etruscan goddess of moon and tides, a sweet wine perfect to be served at the end of a meal with a cheese board.
Località Poggio Rosso 1, 57025 Populonia Stazione, Piombino (LI)
http://www.tenutapoggiorosso.it
Podere San Michele
If we know how the grapevine lived, we know what is inside the wine. This is the philosophy behind the production of wines at Podere San Michele, where they speak of wine also in terms of nutritional values. Their wine is also characterized by the absence of sulphites. They also make interesting pairings with chocolate.
Via della Caduta 3/A – 57027 San Vincenzo (LI)
www.poderesanmichele.it
Cantine Petra
The Petra Winery is a destination both for wine enthusiasts and for those who are fascinated by architecture. The building, designed by Mario Botta, is located on the Colline Metallifere just outside Suvereto, an archaic mansion reinterpreted with modern lines.
Quoting the architect:
"On the ground floor, in the depths beyond the central area and the space reserved for the oak barrels, Vittorio Moretti wanted a long tunnel that penetrates the hill before stopping opposite a rocky wall which, erected right in the middle of the hill, becomes a meeting point or perhaps a place for reflection, far away from the technical hub of the production process which occupies the earlier rooms. The tunnel is a mysterious path that leads to the centre of the mountain, an umbilical cord that connects us with Mother Earth".
The history of Petra Winery is deeply related to Elisa Bonaparte, princess of Piombino and Lucca from 1804 to 1814, who led to a rebirth of agriculture in this area. The first vineyard of Cabernet and Sauvignon was planted here, in the woods of Montioni, thanks to the princess: the vines had a very unique origin, as they came directly from the winery of Jean Remy Moet, the very same Moet of Moët & Chandon.
The Petra Cellars also won the Award as Best Winery of Italy in 2016 and the namesake wine deserved 3 glasses on the Gambero Rosso Guide for 8 consecutive years.
Loc. San Lorenzo alto 131, Suvereto (LI)
www.petrawine.it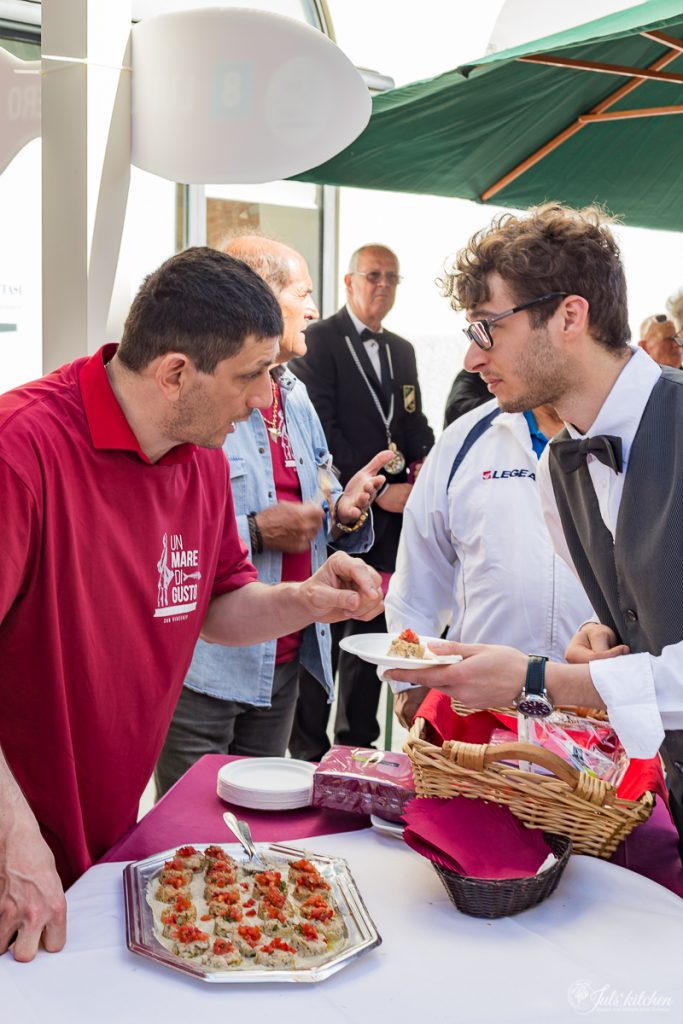 What to do
Street food at Un Mare di gusto, Palamita & Friends
This Fish Festival, which is usually held in May, is now more than ten years old. It began as Tutti pazzi per la palamita, but in the last two years it has changed its name into Un mare di gusto, a sea of taste, keeping the same inclusive and festive character. It is all about palamita, the local bonito, which is cooked in endless different ways. Alongside the planned events, on Sunday the streets of San Vincenzo are filled with street food stands, where the local restaurateurs offer their bonito-based dishes. There are also local wines, presented and explained by sommeliers.
Look on the website for the dates of the next festival.
A day at the Baratti beach
Driving south from San Vincenzo you reach the Gulf of Baratti, a quieter oasis, a free beach with a huge, shadowy and welcoming pinewood. Here you can also find an informal kiosk for sandwiches and panini, made with the best salami and local cheeses.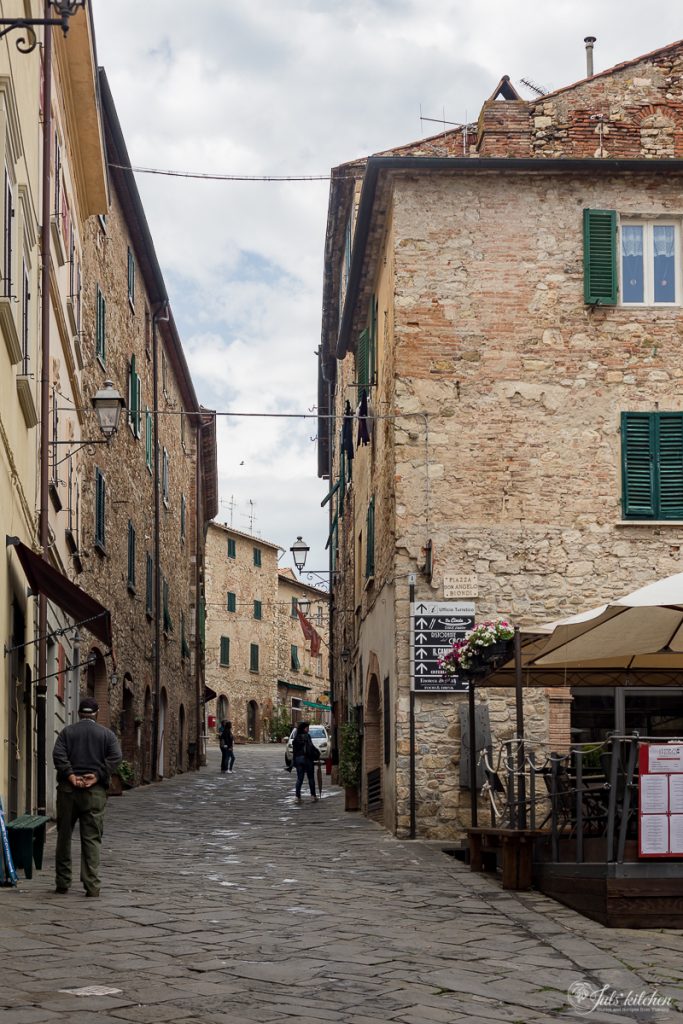 A tour in Suvereto, in every season
A small gem of the inland Etruscan coast, Suvereto was founded around the year 1000. The church and fortress are among the oldest buildings you can visit there. The town grew and prospered between 1100 and 1300, becoming the first free town of the Upper Maremma in 1201. After centuries of decline and Middle Ages, which lasted far beyond its historical limit in Maremma, Suvereto flourished again in the mid-eighteenth century, becoming again a lively centre.
Whether it's summer or winter, you will find events, festivals, activities and local products to be enjoyed in Suvereto.
Estate nel Borgo, lots of events throughout summer
Suberetum, the Medieval festival, in July
Calici di Stelle, a wine festival on the night of Sr. Lawrence, the 10th of August
Wild boar festival, end of November
Calici di San Silvestro, a wine festival on the last day of the year
Stay up to date with the events in Suvereto following the Tourist Office Facebook page.
A visit to the Baratti and Populonia archeological park
I've always had a fascination for the Etruscan people, perhaps influenced by my grandmother's stories, by the cellars built in the Etruscan tombs and casual finds as they ploughed the fields. But here I truly experienced the visit as a child in a school trip, with the same fun and with the same intact wonder and emotion.
Stretching over 80 hectares between the slopes of the promontory of Piombino and the Gulf of Baratti, it is presented as a real open-air museum, glittering with ferrous slag which show the impressiveness of the industrial Etruscan village. The Park includes a significant part of the ancient town of Populonia, a unique Etruscan settlement built directly on the sea, with its necropolises, the calcarenite quarries and the industrial working quarters for iron coming from the hematite deposits on the Island of Elba.
Marta Coccoluto is the best guide you can ask for, she managed to infect us with her tireless curiosity. At the archeological park you can book activities for children and grown-ups, Etruscan writing workshops, weaving on the chassis and guided tours. You can also request special itineraries dedicated to food, women, perfumes, beauty… is a worthwhile visit, whether you are in Populonia for the first time or you are a regular, as every time you can discover something different.
Loc. Baratti (LI)
www.parchivaldicornia.it
Link Love
Here you can read more about the event:
I've written also an article for The Grand Wine Tour on The best seaside getaways along the Etruscan coast and a recipe for cacciucco. Read it here.
Are you planning a trip to Tuscany?
This is not a sponsored post, it is just a collection of tips! Here you can find more small guides on Tuscany:
For more guides and tips, check also our page Discover Tuscany.