An agriturismo in Val d'Orcia and an appetiser with bread and cheese
When I met Luisa for the first time, I was going to teach her how to make pici. Then I discovered who she was, she told me she had an agriturismo in Val d'Orcia and that she makes pici daily for about forty people. Then, I saw her at work, rolling pici like a machine. I ate a humble pie, and we became friends.
We went to visit her at the Rigo, where we fell in love with her family and her hospitality. We meet when we are both in the off season and can take a little breath, but during the busy months we are cheering each other from afar. Today she is the woman I refer to for flowers, wild herbs and flower arrangements, I owe her an infallible method to make pici and many memories that smell of strawberries and pecorino.
One of our 2018 projects is to bring here on the blog artisans, local producers and friends, to give them a face and a voice, to share an inspiring story, or simply to make you travel to a true, authentic Tuscany.
Today we want to tell you about Luisa e Matthias, of their family and their agriturismo Il Rigo, one of the first organic farms in Tuscany, of a passion for cooking good food and growing flowers, of a corner of Val d'Orcia which is breathtaking in every season and of a vegetable garden that became a cut-flower garden.
The following interview has been translated in English by Amy Gulick, who's also the super woman who translated our book, From the markets of Tuscany, in English! Amy, I'm so so grateful and happy beyond words to have had the chance to work with you!
Il Rigo is an agritourism structure, family-run for nine generations. You've taken over management with your husband, Matthias. Tell us about a typical day at Il Rigo.
Mornings are hectic. I usually wake around seven-thirty, and by eight I'm down in the kitchen, where I make a shopping list for the evening's dinner while Matthias settles the bills. Before guests arrive for breakfast, I make myself a nice cup of coffee and take a wander around the vegetable garden. Often my tour of the garden lasts much longer than the coffee in my cup, a cup that usually ends up planted some place among the vegetables to be brought back in days later. This is perhaps my favorite moment of the day. Mornings the flowers are fresh and full. And there's always some surprise, like a just-bloomed rose (or a dahlia the snails have gotten to).
Afterwards, Matthias and I make ourselves available to guests in the reception area, giving them suggestions on things to do and see. During this part of the morning, our employees see to their daily duties while we supervise and provide guidance. Il Rigo is not a large hotel with a manager and conventional hierarchy. Rather, our colleagues are all members of the family, people with whom we have established good relationships. We are a team that's grown together and works well together.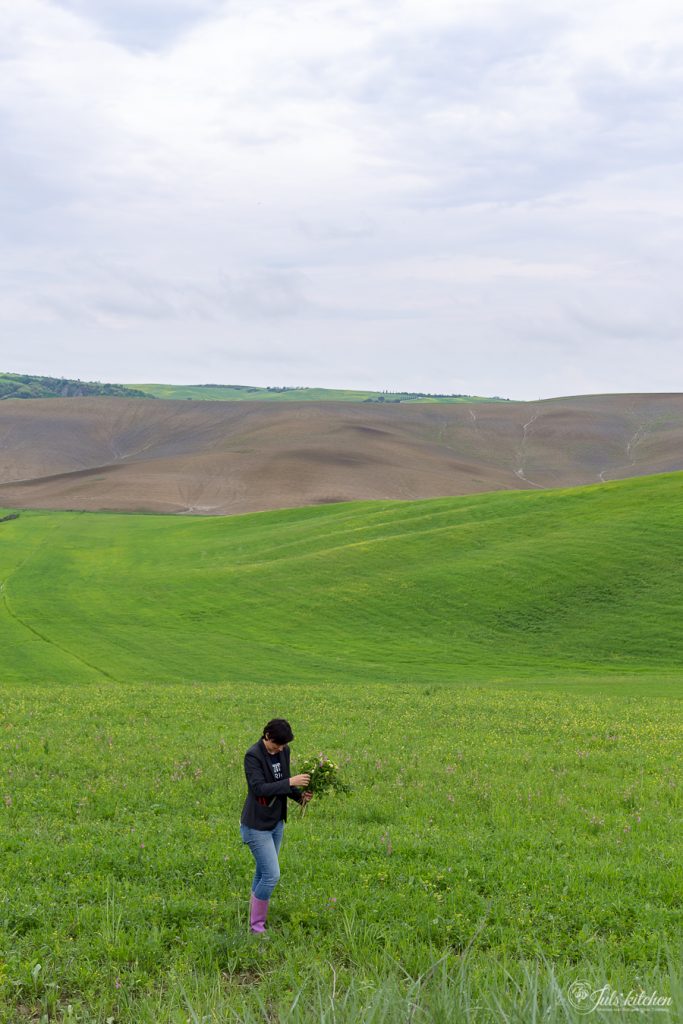 Sometimes we host groups for lunch. But not always, luckily, since lunch is the only time Matthias and I can sit down together and have the house to ourselves. Our guests do tend to go out during the day. Still, sharing our home is the most challenging part of our work. It's also an advantage, but you never truly have the place all to yourself, to detach after a hard day. Over the years, Matthias and I have worked a lot on ourselves, trying to construct an "inner home" so we can fully separate our work life from our private life. You could say this long journey is one we're just setting out on.
After lunch we concentrate on work projects. Matthias sees to maintenance matters and the agricultural side of things, while I'm in the garden or responding to emails. Around 5pm I head to kitchen to get started on dinner. At 7pm our guests return for an aperitivo, and we start serving the meal. I feel a bit shy during dinner. I don't like to show myself in the dining room, especially if I have been cooking. Matthias and my mother help with the serving, and I stay behind the scenes. Our day ends around 10:30pm with a nightcap. Naturally this is a typical day during the tourist season. In wintertime, our rhythms are a bit different.
I so relate. We all need a low season! What will guests of Il Rigo find unique? What type of experience can Il Rigo offer to those who stay here?
Il Rigo, which includes our two farmhouses—Casabianca and Poggio Bacoca—offers firstly a truly incredible view of the landscape. We are surrounded by rolling hills of cultivated land, with very few hotels to disrupt the "waves" of this natural landscape. We are just outside Pienza and San Quirico, both of which can be seen on the horizon. Amiata Mountain is just beyond. It's a 360-degree view, vast yet enclosed, not unlike finding yourself in a postcard. The landscape and the immediacy of nature are surely the first things people appreciate when they arrive.
Il Rigo also has an important story to tell. It was one of the first organic farms in Tuscany, and one of the first agritourism structures to open in the Val d'Orcia, 30 years ago. Since then, the house has changed, adapting to the needs of our guests with the addition of modern comforts. Yet we've never wanted to see Il Rigo as a hotel. Every room is unique in its identity, from the natural pigments used to decorate them to the antique furniture, handmade curtains, or even the old doors found in the farmhouse. For us Il Rigo is a home, and we like to think of hosting guests rather than clients.
I've put a little book that tells our story in each room, including useful tips and maps, in an effort to establish a connection with our guests. Usually when people arrive here they are feeling tense, lost, and disoriented in the country landscape. It doesn't take much, though, for them to relax and let down their guard. One thing I really like is seeing how our guests look at us differently after having read the book we've placed in their rooms. There's interest in their eyes, a desire to know more about us.
Being in the heart of Valdorcia, we do our best to promote this area through the unique and alternative trips we recommend. Often those who come here for a few days, after discovering how much there is to do in this region, end up deciding to come back.
Then there's the food, of course, which for us is a means of communicating even more about our area to guests, through seasonal products and local traditions, for instance. Food also represents the opportunity for us to invest in arable land farming, an activity on the decline of late, at least for farmers like us. In any case, Il Rigo is a place that's more about meditating than doing, a place where going to bed at night brings a deep silence, far from the frenetic sounds of human activity—a place where you can slow down, observe, and discover unexpected riches.
Yes, let's talk about food, something that makes me want to visit more and more often. The cuisine is an important part of staying at Il Rigo as well as in your daily work, from breakfast to dinner to the group lunches you host. Who taught you to cook, and what do you like to prepare in the kitchen?
My love of cooking came from my mother. Though, I can't really speak of my "love of cooking" since for me it's an activity akin to walking or breathing—a natural part of my everyday life. Since I was little, my family life has always revolved around the kitchen table. I learned basic techniques from my mother, a very scientific person who took cooking courses from a young age. She was definitely not the type of cook to measure things "by eye", nor to experiment. I'm different. Once I understand a technique, I throw myself into the thing, daring and experimenting. I follow my instincts. I always change recipes. In fact, I've had to make myself write down the recipes we use in our kitchen!
All these years at Il Rigo spent cooking alongside others have taught me so much, especially when it comes to cooking meat—a fascinating ingredient that requires as much instinct and experience to achieve good results as it does quality raw materials. Since having a vegetable garden, my way of relating to ingredients has changed, too. An eggplant is not just an eggplant when you've planted and watered it yourself, watched it grow and harvested it when ready. The flavors of the vegetables we grow ourselves are completely different from store-bought.
Anyway, my true passion is making desserts! Ever since I was little, I've loved baking cookies and cakes, and even now this is what I love to do most in the kitchen. I have a real sweet-tooth so I tend to go a bit overboard!
Following your Instagram profile, though, you notice that you have also another passion, along that of baking, flowers. How did your love of flowers, and their influence on what you do, come about?
I have always liked flowers. When I was little, especially in summer, I would take long walks around Il Rigo and return home with enormous bunches of wildflowers. Yet I had no way of growing anything when I was small. My parents had both graduated with degrees in Agricultural Studies and they started a 300-hectare farm, but having a garden is a different thing entirely.
I owe much of my love of flowers to Nadia, a woman who worked for us many years ago (now retired), who had a truly magical touch with flower arrangements. She would use everything: dried stems, berries, wild flowers. She always kept a set of shears in her car (perhaps she still does), so when she spotted a nice long stem along the roadside she could stop to gather it! She was known to take the occasional sunflower, too. These days I travel with a portable shovel in my bag, so that if I come upon a flower or herb that interests me I can dig it up and take it home to plant in my garden!
The real turning point though came in 2014, when I stumbled across a truly extraordinary Facebook page: ForageFor. Anne Marie, who manages the page and a garden of the same name, keeps a walled garden in Suffolk, where she grows flowers for weddings and other events. Well, everyone knows that when it comes to cottage gardening, England is far ahead of the rest. But what Anne Marie is able to convey through her flowers reflects a true love and infectious passion. While looking at her photos, I was moved by the delicacy of her primroses and pansies, her majestic peach-colored digitalis, her perfect dahlias, her cakes made with edible flowers, her frost-covered marigolds, her white chocolate bars made with violet flowers and phlox, her vintage blue bottles and floral mandalas…
So the first chance I got, I went up to Suffolk, where one rather gloomy day I entered that garden, a place that even today holds a piece of my heart. I admired perennial beds, her potting shed, and the old greenhouse where she grew dahlias, from which she'd removed the glass and left only the rusty iron structure. I ate an amazing slice of chocolate cake decorated with blue cornflower and pansy petals. When I left that garden I was done for. I'd gone mad for flowers.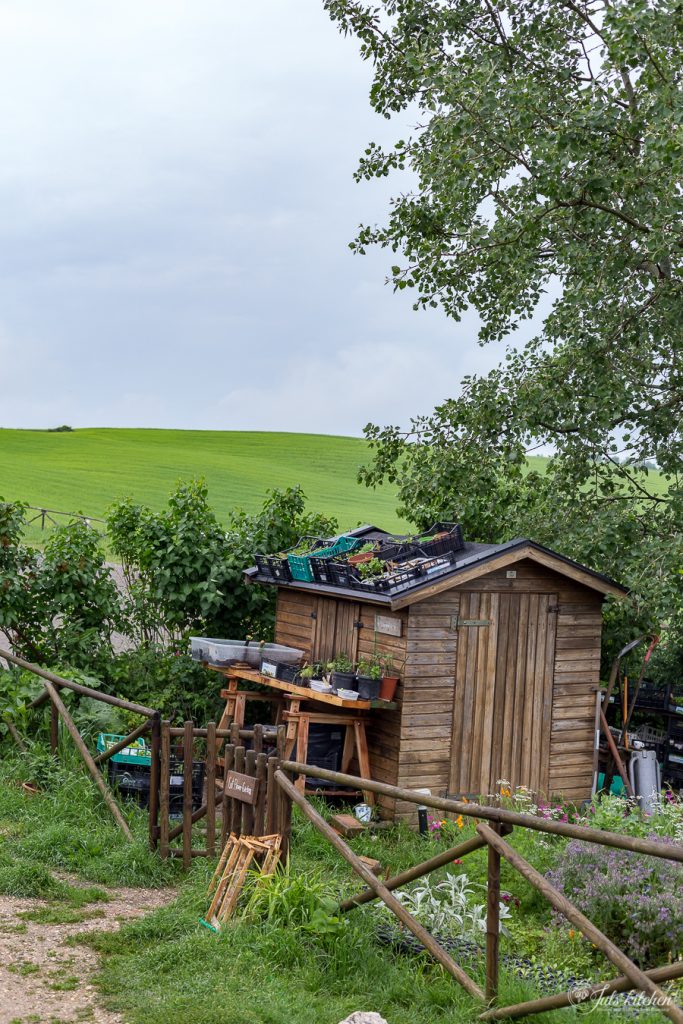 From then, my interest only grew. Mine has become a garden of cut flowers, and Il Rigo's website has started to fill up with photos of flowers. I made some impulsive purchases of seeds and books and began to discover the (social) world of local growers. I found out that in the United States, England, and even Austria, there is a network of small farmers who grow cut flowers, for weddings and events but also for markets (here in Tuscany there are hardly any of these!) and supermarkets. The American chain store Whole Foods, for example, acquires flowers almost exclusively from local growers, thereby supporting small American farmers in a broad way. From this point of view, here in Italy we are still far behind.
My passion for flowers has really opened up a new world to me, and has introduced me to so many passionate people "hungry" for flowers the way I am. Then, thanks once again to social media (this time Instagram), I met my second mentor, Margrit, who keeps a cut flower garden in Austria (Vom Huegel). She has also written a comprehensive and illuminating manual on creating a cut flower garden. I met her, too, by chance, thanks to her photos. To me, photographs of flowers say a lot about the people who grow them. In February I visited her for a traineeship and learned so much. After that breath of fresh air I returned home full of the desire to continue on this path of growing things.
I coccini di pane e pecorino – Bread and Cheese en Cocotte
This is one of the many recipes I learnt from Luisa, along with the right technique to make pici. In the original version, the one that you can find in our book From the Markets of Tuscany: A cookbook, bread and cheese are piled up into four individual ramekins or cocottes, something that we would call coccini. Lately, for a practical purpose, I prefer to place them directly into a pan, and maybe I like them even more, as at the end they are moist and melting.
The bread is the typical Tuscan bread, preferably one or two days old, but you can use the bread you have at home, even better if it is a sourdough loaf. The idea is to recycle stale bread. The same can be said of cheese: obviously this recipe was born to use fresh pecorino from Pienza, but I've tried this recipe with other types of fresh pecorino, or melting cheese, and it always works. Truffle butter is the icing on the cake, but of course it can be omitted or replaced by a knob of salted butter. If you want to splurge on an unforgettable appetiser for your friends, just shave some fresh truffle as soon as you take the coccini out of the oven.
To judge this starter dish by reading the ingredients alone, you would never guess how special it is. Once you have tasted it, however, I guarantee it will become an instant classic at your dinner parties with friends.
Bread and Pecorino Cheese en Cocotte
Ingredients
Extra virgin olive oil

12

slices

of bread

,

1-2 days old

240

g

soft pecorino cheese

,

8 1⁄2 oz

White wine

,

such as Vernaccia

Truffle butter
Instructions
Heat the oven to 185°C/410°F.


Oil 4 oven proof earthenware cocotte dishes.
 You can also use a pan that where you can nicely fit the four slices of bread side by side.

Slice the bread into 12 slices about 1 cm thick (0.5 inch) so that they fit perfectly into the cocottes. Slice the cheese into 12 slices about 5 mm thick.


Layer in the bread and cheese, alternating, starting with a slice of bread and finishing with a slice of cheese. Moisten each layer with a bit of wine. Finish with a teaspoon of the truffle butter.


Cook in the oven for 15 minutes and serve immediately.